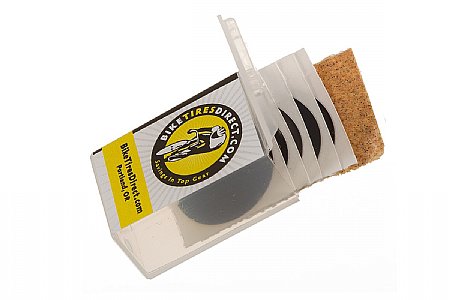 Cycling Enthusiast
Tulsa, OK
1 of 1 customers found this review helpful.
The glue does not hold
I had high hopes for these patches. They install easily and quickly like the Park patches and adhere completely after install.
But after about a week worth of riding, the glue degrades (or maybe dries out) causing the patch to begin lifting up around the edges. This happened on two separate tube/patch installs, so it wasn't a fluke. I've been using the Park self adhesive patches for 20+ years and 99/100 times they perform like you would expect. Clearly, adhesive patches do lose their ability to seal a puncture over time, but this is ridiculous.
You really need to avoid these. I barely avoided crashing out on a simple bend in the road because you get no warning when patch starts lifting up.
Thank you for your feedback.
Competitive Racer
Ann Arbor
Works great, especially if the tube is CLEAN
We all know that a tube of glue is only good immediately after opening, come back a week later and it has completely evaporated. I have far more patches than I have glue to use with them! That's why I decided to try the glueless patches. I think they're terrific! My recommendation however is that you carry alcohol wipes with you and CLEAN the tube thoroughly, let the alcohol evaporate, scuff the tube lightly, then apply the patch. This works well even when the tube is not immediately inflated inside the tire, i.e., no pressure applied to the patch other than your thumb.
Thank you for your feedback.
Pressure is the secret.
I decided to give these patches a try after reading the reviews. But after trying it on two flats I had saved for a patch day I was disappointed that the adhesive didn't hold so I had to trash the tubes. Then I remembered reading that tire pressure was the key. So with the next flat I assembled the tube back in the tire and pumped it to pressure the patch. Presto, it sealed. Of course the included instructions gave no similar recommendations. I'm thankful that I was able to learn from others experience.
Thank you for your feedback.
Daily Commuter
Portland, Oregon
1 of 1 customers found this review helpful.
Sometimes a glueless patch is exactly the ticket
When you're out on a ride with others and you get a flat (and don't have a spare tube), making everyone wait for glue to dry just isn't right. Glueless patches, like these fine ones, are exactly the thing. One thing to watch out for, you should sand-paper the affected region a little less than for glued patches.
Thank you for your feedback.
Cycling Enthusiast
minneapolis, mn
4 of 5 customers found this review helpful.
Very convenient product.
Bike patches are easy and quick to use, i wouldn't want anything else when i go on those long buke trips where blowing a tire is always a risk. I have only had to use one patch thankfully but it has held up for a few months now.
Thank you for your feedback.
2 of 3 customers found this review helpful.
Glueless Patch extends tires wear
I had a flat that left a cut in a tire with significant tread left on it. I put the glueless Patch on the cut in the interior of the tire and it has maintained the integrity of the tire and allowed me to continue to ride on the tire.
Thank you for your feedback.
4 of 5 customers found this review helpful.
Functional but big
So far the one patch I tried worked. It was easy to apply and has held to date.
The case is large. The Park patches are thinner and smaller case. I have very limited space to pack anything on my bike so the more compact an item is the better.
Thank you for your feedback.
Cycling Enthusiast
Walla Walla Wa