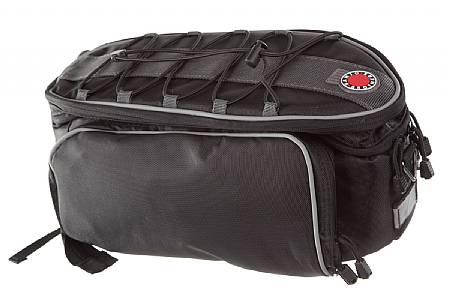 User submitted reviews
Review by TimH

Cycling Enthusiast

Chicago Suburbs

Very good bag for commuting

I commute by bike 20-30 miles each way and usually take a small backpack to carry my laptop and change of clothes and other stuff. This works fine, but I'm limited on how much I can, or want, to carry, and when it's really hot I would rather not use the backpack. This bag is just the right size and design for my commute.

Both sides unfold to use a mini panniers. There is a hook on an elastic "rope" at the bottom of each pannier that attaches to the bottom of the rack to hold the pannier down. You can re-tie the rope to adjust the length so it holds the pannier tight. The panniers are big enough to carry a change of clothes and light jacket. I usually pack shorts and t-shirt but they could fit long pants and long sleeve shirt and light jacket between the two sides. My macbook air (12'" x 8.5") will also just fit in one of the sides (macbooks are pretty tough but I still prefer to carry my laptop in a backpack to protect from vibration).

The main compartment that fits on the rack is pretty big, and it's insulated with thin foam so I can pack things that need to stay cold like an after ride drink or lunch and re-freezable pack. It expands for extra room so is probably big enough for a pair of light shoes (I have not tried to put shoes in it yet). In total, but bag fits way more than my small backpack.

The bag attaches to the rack with Velcro straps that seem strong enough to hold it on. When the side panniers are down and hooked to the bottom of the rack, the bag is much more stable. I have only used it this way. Without the panniers hooked on, the bag itself can move around and lean side to side. I don't think this is an issue for short rides on smooth surfaces, but not really for a longer commute over bumps, etc. With the panniers down and hooked on, it's secure. I've used it on 4 rides so far and it hasn't moved around.

Definitely recommended, especially for commuting.

Thank you for your feedback.
Review by Anonymous

3 of 4 customers found this review helpful.

Great product, easily adjusts to just about any size load.

Easily adjustable to size of load, mounts well on rack, no problems to date. Thanks.

Thank you for your feedback.
Review by Leigh

2 of 2 customers found this review helpful.

Used for daily commutes to work. Holds a wide variety of items along with plenty of volume.

Used daily. Bag has held up very well to daily use. Fits on rear or front rack as needed. Unfurls to handle larger items.

Thank you for your feedback.
Review by Anonymous

Cycling Enthusiast

Monroe Township, NJ

Banjo conquers space.

Use the bag on a Bike Friday to carry tools food beverage and an occasional stray animal. Plenty of expandable space.room

Thank you for your feedback.