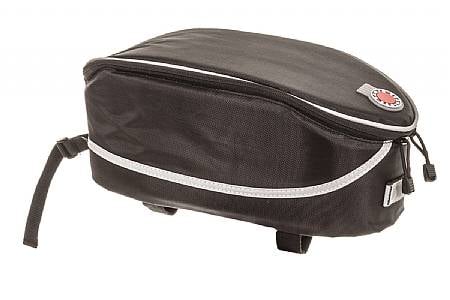 This is the preferred commuter bag in my family
We have five commuter bikes in my family and everybody wants a trunk bag for carrying small items � a lock, a wallet, etc. I use a metro bag that's smaller than this, and my wife uses an expanding version of this Banjo Brothers bag that is somewhat larger, but everybody else likes this size in the middle. Personally, I wish the sides were a bit more rigid; the bag can get a little sloppy and droop to one size or the others. But in the main it's a good solution and the price is certainly fair.
Thank you for your feedback.
2 of 3 customers found this review helpful.
Simple. Straight forward bag.
I bought this with those incredible sales that bike tires direct offers not expecting much. But it works great. Insulated. EZ mount to any rack. Cold drinks on the trail. Need I say more?
.
Thank you for your feedback.
Cycling Enthusiast
Salem, OR
Cycling Enthusiast
new england