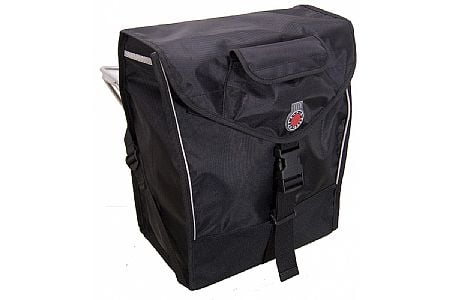 User submitted reviews
Review by NYC Scientist

Works perfectly for me

Very easy on and off for my daily commute. Roomy for the essentials(laptop, extra shoes, keys, phone, wallet, etc.) and even a little shopping when needed.

Thank you for your feedback.
Review by RobertoM

Cycling Enthusiast

Madison WI

3 of 4 customers found this review helpful.

Good quality roomy bag for around town

Well made, roomy bag that is good for runs to local supermarket or even commute to work in sunny conditions. I would not bike tour with it, as its not aerodynamic or truly waterproof, but it's well made and roomy, Good errand bike bag or for good conditions commuting. I like that it's extremely each to attach and disengage from the bike, so it's good if you are going into a store and want to use it to load up what you buy, or into work or a meeting to use it like a book bag. The downside of the easy engagement (it just clips over the top rail) is that the top clips tend to slide forward, causing the bag to hit your heel when pedaling if you don't slide the bag back far enough on your rack. I solved this by winding a strip of black electrical tape around by the rack's top bar at a point where the tape stops the bag clip from sliding forward. I only bought one, but might get another to have max hauling for groceries, especially with gas prices creeping up these days. Price is great. No inner compartments or tablet protective sleeve, but then the price would need to be higher, and Banjo makes a bag with those types of features anyway.

Thank you for your feedback.
Review by Minneapolis-Biker

Cycling Enthusiast

Minneapolis, MN

13 of 14 customers found this review helpful.

Sturdy, easy to mount, remove, and take into the store.

I got one of these two years ago and ordered this second one to balance out my bike when I get a bigger haul of groceries from the store. This new one has a small exterior pouch with a Velcro flap for a wallet or phone, unexpected and nice!

I just hook the panniers on the side or front of my shopping cart and when I check out I put all the food into the pannier, no need for a grocery bag. The handles are sturdy and easy to pick up even a heavy load, I'll pack about 20 pounds in each without a problem. Aside from groceries, it fits a big laptop just fine and since I am allowed to park my bike in my office I leave the pannier within reach and grab stuff as needed.

Thank you for your feedback.
Review by LArider

Cycling Enthusiast

Los Angeles, CA

3 of 4 customers found this review helpful.

Good for bulk products, rides best loaded.

I use this for shopping and commuting. The bag holds a full standard grocery bag load and I just drop my computer bag in for the commute. When empty, it is a bit bulky and prone to hop if your rails are wide, and can catch your heel.

Thank you for your feedback.
Review by Gslape

Cycling Enthusiast

El Paso, Texas

2 of 2 customers found this review helpful.

Well worth the price

Product made from good quality materials. They are easy to attach and remove as needed but are not going to fall off while riding. I pack them full of a weeks worth of groceries with no problems. I love that they fold flat wile on the rack if empty. The reflective accents are a nice touch. Another home run for Banjo Brothers. Great bag at a great price.

Thank you for your feedback.
Review by Anonymous

Nice shopping pannier

I love the fact that I can get a packed bag of groceries in this pannier with no problem!

Thank you for your feedback.
Review by chris k

Daily Commuter

dc va md tx

0 of 2 customers found this review helpful.

always use one lock atleast. i lost both as rode done the road found one theotherone is gone u locks go excellently for these put like two locks per bag wowwowwow these panniers super excellent wit

one lock now completely saves these from falling off my bike...two u locks etc will be figured out very soon....a tleast one lock now

then figure out the second one

Thank you for your feedback.