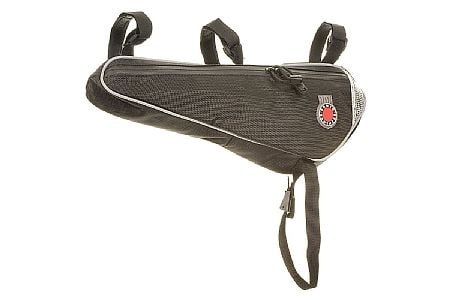 Small package big punch
I have this frame pack on my gravel bike, is big enough to carry everything I need and I want and don't fell like take away to much room, I'm still can use my 2 water bottles without a problem and the frame won't rub my legs . I love it
Thank you for your feedback.
Cycling Enthusiast
Portland
2 of 2 customers found this review helpful.
Perfect for my first frame pack
I bought and started using when I bought my first gravel bike. I've always had road bikes with the small, seat pack and wanted to try a larger, frame pack for this new bike. But I didn't want to spend a lot of money like it seems most frame packs cost a lot, and this seemed like a good value. The small, Banjo Brothers pack has worked out really well. It's small enough that it doesn't inhibit getting to my water bottle cage but large enough to carry all of the tubes and repair stuff I need, plus a few energy bars etc. with some room to spare.
Thank you for your feedback.
Cycling Enthusiast
minnesota
11 of 12 customers found this review helpful.
good frame bag, might be difficult to fit on smaller frames though
I searched long and hard to find a partial frame bag, looking up dimensions, making paper templates to see how this or that bag would fit on my bike and how it would impede access to water bottles.
I ended up choosing this one because it had the largest volume while seeming to fit well enough on my bike and it has fit the bill, so to speak.
The only caveat is that I had to install it backwards to avoid interference with my downtube water bottle.
If you have a level top tube road frame, I would expect anything 54cm and up would fit this bag as intended. Sloping top tubes make things more difficult, but I suspect a 56cm frame with sloping top tube would fit OK. My 54cm sloping top tube needed the backwards mounting, plus lowering my bottle cages as low as possible to fit both a seat tube and down tube cage. I even ended up using a cage lowering adapter (home brewed with aluminum plate and lock nuts, resulting in a lower profile than the Shimano Di2 cage adapter or similar items. A side entry cage on the down tube also makes things work better.
With the bag itself, I like that it has two separate, full length, but asymmetrical width, compartments and two way zippers. I haven't had to test its water resistance so I can't offer any opinion there.
If there's one thing I would ding it for is that the faux leather covering the velcro is a bit flimsy and one piece tore on the first day of use. It doesn't impact functionality and isn't very noticeable, but I thought it worth pointing out.
I can carry a spare tube, a bunch of tools, patch kit, micro pump, wallet, keys, a few snacks, all with no leg interference.
Thank you for your feedback.
Cycling Enthusiast
San Diego
1 of 1 customers found this review helpful.
Frame Pack that Keeps the Water Bottles
Carries a fair amount of stuff and still can use two water bottles, albeit one must be a medium size bottle. Well made, secure mounting, and good price! What's not to love? Banjo Bros even has a measurement template to help you choose the right size, which really helped me.
Thank you for your feedback.
Cycling Enthusiast
fairfax, ca
7 of 7 customers found this review helpful.
Convenient, but...
Fits my pump, spare tubes, food, tools etc. Coupled with my seat pack, I can carry plenty of stuff. Drawback is that it makes water bottles hard to get at if you have a top tube that slopes down, as many bikes do. Still, I'm glad I bought it for those long rides in the boonies where you have to carry all your own tools and several tubes and a pump.
Thank you for your feedback.
4 of 5 customers found this review helpful.
Beefy bag, holds a lot of gear.
This bag has extra long straps, which can get in the way when installing. Also, placing it on a smaller frame makes it somewhat difficult to use the water bottle cages. It's still a great bag for days when you need to bring some extra gear and don't want to bring a Camelbak.
Thank you for your feedback.
Cycling Enthusiast
Portland, OR
4 of 5 customers found this review helpful.
Functional, but interferes with down tube water bottle cage
For the price, the bag works fine. As the previous reviewer mentioned, the straps are a bit on the long side. You'll also need to make sure that the straps are line up well or you'll get some clothingvelcro rub on out of the saddle climbs. My biggest problem with the bag is the size and shape makes it very difficult to access a down tube water bottle, even when I use a small bottle. I have a 54cm Specialized Roubaix, but the problem is encountered on all my 54cm frames including the more traditional geometries. This is unfortunate since I got the bag for longer rides when 2 water bottles is a necessity. Quite frankly, I think the bag would be much more useful if the redesigned it to by reversing the bag and utilizing the topseat tube rather than the tophead tube. They could then increase the angle of the large portion of the bag so that it would hold more
Thank you for your feedback.
Cycling Enthusiast
Kansas City, MO
Cycling Enthusiast
Nebraska, USA
2 of 2 customers found this review helpful.
I was pleasantly surprised at how much stuff I could get in the pack.
The pack met my needs/expectations and was very useful on my longer rides. Straps are a little long for most bikes (why the 4 vs. 5 star rating), but I did not trim them until I see how it will fit on my N1 bike. Latches are also nicely padded to protect the bike finish and the pack doesn't interfere with pedalling. It's a good investment for those of us that can't get everything in a seat pack we'd like to have on a ride. Good job Banjo Brothers.
Thank you for your feedback.