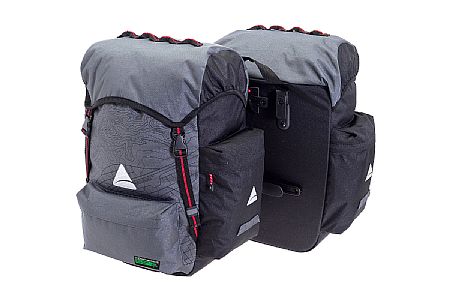 Good value
I didnt know what to expect, but these are pretty good! Ive used the expensive brands before and they arent worth the extra cost compared to these. They're spacious, sturdy, and repelled water very well the one time I rode in the rain. They didnt feel like they would, but no problems. Stay on my bike securely, and easy on-off. I wish they had a shoulder strap and I plan to add one soon.
Thank you for your feedback.
Daily Commuter
northern OH
0 of 1 customers found this review helpful.
These panniers are great. They're all I had hoped for. I biked decades ago, and recently returned to bicycling again. They're sturdy, roomy. I wish they had an easier way to carry around, rather
I searched the internet for six hours reading about panniers, their prices and customer reviews. I had hoped for a cheap set for under $30-$35, but after reading the customers complaints, I decided to spend an extra bucks for this set of panniers. For the semour oceanweave P55 pannier set, this is the lowest price I could find, the quality is fine, they're water resistant, and have plenty of room for my needs. they hold a laptop in a shoulder bag, and there's plenty of room for groceries, I'd say 3-4 of those small plastic shopping bags worth. They mount and dismount easily (I don't use the stabilizing lower clip) and the side pockets are convenient. After reading the reviews and complaints of many, many customers about plastic breaking and torn materials, I treat the bag somewhat carefully and not constantly abuse their medium strength construction. Well worth the money, comparable bags, perhaps of sturdier materials would cost $100 or more. They also look nice, a real plus while riding around lots of people and are environmentally friendly.
Thank you for your feedback.