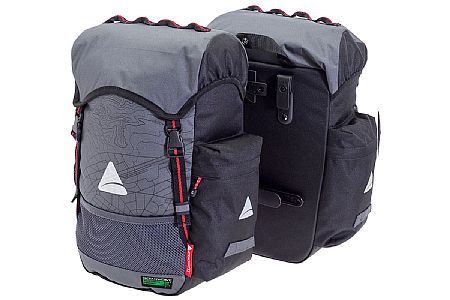 Cycling Enthusiast
Dallas, TX
Solid product with plenty of storage options
I typically only use my bags for trips to the pool for swimming and commuting to work. Solid product with plenty of space to throw bike lightscomputerbottles in quickly when locking up. Water does bead up on the outside keeping items inside dry. Will definitely be using these for a two day bike-camping trip upcoming but probably too small for trips lasting much longer.
Thank you for your feedback.
Cycling Enthusiast
San Diego
1 of 1 customers found this review helpful.
Lightweight and durable
I use these in San Diego for commuting, grocery shopping, and long day rides to carry extra clothing and food. The capacity is greater than I expected which is helpful when I've gone grocery shopping hungry. The attachment clips are easy to use and the packs stay in place well even when riding on uneven surfaces. The fabric seems very durable and will keep out a light to moderate rain. I'm not sure about using them in really wet climates though? Overall a great set. I'm thinking of getting another set for my daughter who commutes to work.
Thank you for your feedback.