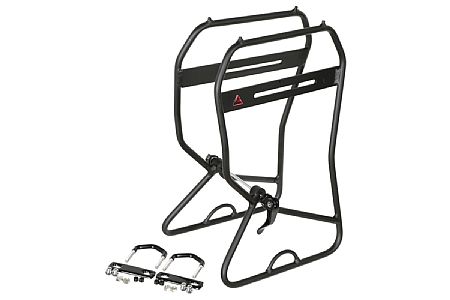 Cycling Enthusiast
Lancaster, PA
Solid Rack, Attachment Issue
I am pleased with the LowRider rack except for one thing it would not attach to my bike using the supplied hardware. I will accept some responsibility for that as I ride a Long Wheelbase Recumbent with a 20 inch front wheel. That being said, the company says it will fit any bike.
I contemplated making a couple of brackets so I could use the hardware, but opted instead to zip tie the racks to my front fork. It seemed solid enough that way. I loaded my Ortlieb panniers and headed for any overnight camping trip. They held up well and I had no issues with stability.
After the trip it was easy to cut the zip ties and put my original quick release spindle on the front wheel. The racks are hanging in the garage, waiting for the trip.
I was concerned about a flat on the trip and having to cut the zip ties to remove the wheel. As I think about it now, I would leave the zip ties, but pull the quick release spindle all the way out so the wheel could be removed.
Thank you for your feedback.
Solid rack for suspension forks
I use the this lowrider rack for my e-bike (with front suspension) - for commuting. Even without a support bridge connecting both sides, it's solid and doesn't twist or rotate. The original quick release that came with the rack was too short, so I ended up getting a longer one at the LBS. It also came with cylindrical spacers that don't fit the u-bolts, so I have no idea what they're for. And then there's the rattling noise inside one of them - probably left over from welding, been meaning to spray inside the vent holes with expanding foam to stop the noise. The rack overall is sturdy, works perfectly with Ortlieb panniers with a QL22.1 bottom (rotatable) hook, but not QL1 versions.
Thank you for your feedback.