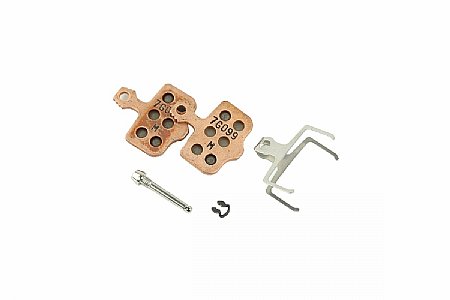 Cycling Enthusiast
Oakland, CA
Excellent braking, wears quickly
If you are buying these pads, you may, like me, have essentially no choice, as they seem to be the only pads that fit my SRAM road brakes. I also can only speak as a newish user of disc brakes. That said, I am completely delighted with the braking these afford - smooth, quiet, nicely modulated braking every time, in wet or dry. My only gripes, which may be just an issue with disc brakes in general - I do not know- is that they wear pretty fast , are quite expensive, and take some fiddling to assess for wear. I find that in dry conditions, they are shot after 1600 miles, and if I'm riding in the wet, the extra road grit wears them out in as little as 1000 miles. At $xx a pop, that is vastly more than the $xx for a 4000 miles set of rim pads. Plus, unlike rim pads which you can pretty much just glace down and assess, these require you to remove the wheel and pop the pads. Not the end of the world, but still a bother.
However, in spite of the minuses, I am not going back to rim brakes. The power, modulation, and reliability in all conditions makes this a clearly superior product, one worth the cost. They are also offered in a longer wearing version, but I'm sticking with 'quiet' for the pleasure of it.
Thank you for your feedback.
Cycling Enthusiast
San Diego, CA
Do the job
BTD is one of a very few retailers that provided proper specs for rival axs. Even with sram you have to do a bit of digging to find the sku
Always amazing service
Anyway, they work. Currently set up on a gravel bike that sees almost all dry sandy conditions, with no concerns
Thank you for your feedback.
Daily Commuter
New England
Cycling Enthusiast
Madison, IN
Great pads, great brakes
Super easy drop-in replacement for OE pads, which gave reliable performance for several seasons. Super easy assuming you have a piston tool such as the Park Tool PP-1.2 Hydraulic Piston Press, which I do. Pads are quiet and powerful in all conditions.
Thank you for your feedback.
Cycling Enthusiast
Seattle, WA
Cycling Enthusiast
Orlando
Casual Cyclist
N. California
Competitive Racer
burbank, CA
Cycling Enthusiast
San Diego Ca
I have always liked Avid Elixir brake.
Avid Elixir brakes are one of best brakes on the market. One, they are light weight. Two, the brakes pads are super easy to install. The only complaint is that the price should be lower. The price of one pair almost equals that of my vehicles brakepad.
Thank you for your feedback.