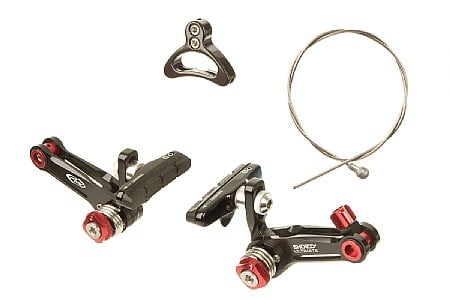 1 of 1 customers found this review helpful.
over-engineered
I disliked these when I opened the package 4 years ago. I hate them now, and here's why.
1. you can only use their pad holders and there isn't enough tilt-yaw in the washers (in the up-arm position)
2. the little washers between the bosses and the tension adjusters...you lose'em, you're screwed.
3. the tension adjuster is aluminum..it faces the boss ends (steel) and when you tensiontighten, it grinds away a core in the adjuster
4.the straddle cable holders are held in place with O rings. How long they last?
I did like the quick release set-up, but that's it. I went back to Oryx's, which work just as well.
Thank you for your feedback.
Competitive Racer
Atlanta, GA
1 of 2 customers found this review helpful.
A better canti
I just started racing CX, and was unpleasantly surprised at how pathetic canti brakes were, or at least the stock pair that came with my low-end CX bike. I upgraded the front to the Avid Shorty because it seemed like most of the pictures I saw in the magazines showed them on the pro's bikes. They are definitely more powerful and a good bit lighter. Their adjustability lets you dial them in exactly the way you want. The only complaint I have is the style of pad keeper, which is a bit of a pain to use compared to the simple screw used on most road bikes. Still, a worthwhile upgrade if you're sticking with cantis.
Thank you for your feedback.
Competitive Racer
Seattle, WA
8 of 9 customers found this review helpful.
Best Cantilever I've ever Ridden
This is easily the best cantilever brake I've ever ridden. It's VERY easy to set up, as long as you have the right tools. Add to that, the braking power and modulation are both very good, largely, I would assume, because of the stiffness of the system. It only requires a tiny bit of toe-in to stop the canti squeal, maybe a credit card width. All that said, it's expensive, but after years of awful and mediocre cantilevers, I'm glad to say I've found one I can say is actually worth the money.
Tools needed You'll need 6 separate tools to set it up - 2.5mm, 3mm and 4mm hex wrenches, a torx T10 (if you want to change the arm width), a 15mm wrench (seems it was designed with the park tool cone wrench in mind), and of course, a cable cutter. I believe that's double the one I took off to replace.
Thank you for your feedback.