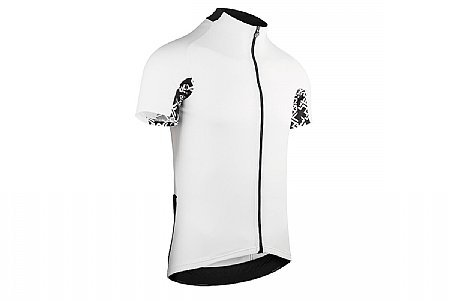 Competitive Racer
Adirondack Mts
Assos quality at a great price.
The best materials, great one-handed zippers, an unrivaled fit on the bike. Assos doesn't make coffee shop clothing they make cycling clothing. It feels weird standing up straight and walking around, but get your carcass on the bike and every single panel of every garment they sew falls EXACTLY where it should. It disappears, it feels like it was cut and sewn just for you, a custom made piece of clothing. Worth every penny. I have several of these jerseys, and several other Assos jerseys, bibs and shorts, gloves, socks... it just fits right, it feels right, it works. Give me more- I'll ride all day.
Thank you for your feedback.
Cycling Enthusiast
Ft. Lauderdale, Florida
My GoTo MTB jersey!
I'm an avid mountain biker that primarily rides trails in South Florida. It's hot and humid down here most of the year. Maintaining a consistent body temperature and wicking sweat off of my body is mandatory for me to get the most out of my time on the bike. This jersey does this perfectly. The material feels very high end and breathes well. The zipper stays in place. The cut of the fabric is perfect for my frame (I'm 6'0, 199 pounds with a long torso). Most cycling jerseys that I wear are either too short on the bottom or too tight in the chest area. This one is form fitting but not too tight which makes it perfect for mountain biking. I plan on purchasing more of them.
Thank you for your feedback.
Fits Small
I truly love the brand Assos, its primarily all I wear-saying that, this jersey just isnt up to par in fitting like my others. In the description it says it has a more relaxed cut than other assos jerseys and I can tell you that it is not, its a true race cut through and through - I fit in medium and large and this jersey size Large (59 170 pounds) was so tight especially on my arms that it was absolutely uncomfortable to my dismay. Also if you like longer arm cuts this jersey is not for you, it has a very short sleeve length.
Thank you for your feedback.
2 of 2 customers found this review helpful.
Great fit, well constructed and performs as expected
Assos always exceeds the standard market products in design, construction and quality. The shirt fits smooth when down on the drops and provided great cooling on a very warm spring day.
Thank you for your feedback.
4 of 4 customers found this review helpful.
light and airy
I use this when the temperature is above 75. The fit is spot on, the bottom stays on as it should, even going downhill at high speeds there is no flapping or movement of the collar or the sleeves. The material is very light and airy and even after a 3 hour ride, I get home dry as the sweat is moved away from the body quickly. The rear pockets are good but no zipper for safety of stuff in the pocket!
Thank you for your feedback.
Cycling Enthusiast
Yay Area