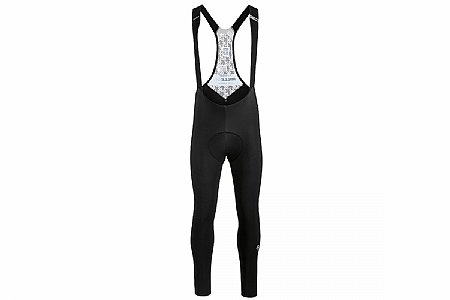 Cycling Enthusiast
Los Angeles, CA
1 of 1 customers found this review helpful.
Perfect winter tights for my area.
I've had the 3/4 Winter Bib Tights for a couple of years now and when I saw these on sale, I had to get it. As expected, this piece is comfortable, fits great, the chamois is awesome and they keep me warm during the winter months. For context, my area doesn't get snow during the winter and the coldest ride this season was 39F. This piece is perfect for my area. It's a little nippy at the start of my ride, but after just a few minutes and I get the blood pumping, it's all good. I imagine you would want something thicker if it's snowy, because I feel that anything below 39F is when this thing starts underperforming. So if you have mild winters, I recommend getting these tights.
Thank you for your feedback.
Cycling Enthusiast
Oakland, CA
2 of 2 customers found this review helpful.
Superb cool weather bib tight
I love these tights! I've been riding them for a couple of months, and they are wearing well. Great compression without being constricting, nicely cut for comfort, mercifully generous chamois, wide straps mean they seat well and never cut your shoulders, plus long enough to keep me warm to the tops of my socks - unlike my PI and Castelli tights that leave me some very chilly real estate around the ankles.
A word on fit - Assos cuts their tights to fit right in the riding position, so standing up they feel a bit off. But as soon as you are in the saddle, you realize how well designed they are. Assos recommends that if you are unsure, go with the smaller size. I am 6'2", 178 lbs, and on the cusp of L/XL. L works perfectly.
A word on temperature - I am riding in the SF bay area, so "winter" here is really just chilly, not actually cold. These tights are perfect for temps in the 40's-50's. However, for colder weather you might prefer their warmer gear.
They are not cheap, hence the 4 star on value, but ultimately, these are indeed worth the price.
Thank you for your feedback.
Cycling Enthusiast
Oakland, CA
2 of 2 customers found this review helpful.
Great fit, well designed
I've had a few rides in these and so far am very happy. They are well cut, especially when compared to the other tights I have used - PI and Corsa. PI tend to be saggy and a bit short, and Corsa are just way too short in the leg giving me freezing ankles. Unlike the other 2, the legs are very long, reaching all the way to the top of my socks, and do not rely on a zipper to let your feet in. Instead the lycra is quite tight, making for a fantastic fit. In fact, across the entire tight, the lycra is satisfyingly snug and springy. The shoulder straps are quite wide (~2") which makes them awkward to put on but extremely comfortable to ride in. As with their bib shorts, the cut is designed to fit optimally in riding position, so when you are standing up and walking around they feel a little awkward, but the ride is super. The pad is very thick which provides a lot of comfort. However, it is also a little big, so it takes a little shifting around to get it just right.
I'm riding in pretty mild 'winter' conditions, and have been entirely comfortable in the 40-60 F range. I'd typically wear shorts at 60, but some days heat up more than expected. If you are in real winter, you might want to consider Assos's warmer model.
For reference, I am 6'2", 175 lbs and L fits perfectly. I also wear L in PI and Corsa (for Corsa I should have gone up a size).
The only minus is the price, which is quite steep. All in all, I would happily buy these again.
Thank you for your feedback.
0 of 3 customers found this review helpful.
Meh
This is my first pair of Assos tights and I am not impressed. Given the cost, expected angels to grab my buttocks and carry me around. Alas, it was not to be. The moving pad doesn't do anything and seems like a total gimmick. I don't like the super wide shoulder straps and the quality of the material is just average. They are nice shorts and I'll ride with them, but they aren't a good value.
Thank you for your feedback.
Cycling Enthusiast
Portland, Oregon
1 of 1 customers found this review helpful.
Excellent Winter Bib Tights
I usually steer clear of bib tights because they are generally too short in the legs for me, but these fit great. Plenty long enough, snug in the body, a nice amount of compression in the legs, and a very comfortable chamois. They're plenty warm, too -- I've worn them when the temperature was in the mid-30s and they keep me nice and warm. Plus, they don't overheat when the temperature starts to climb. Nice wide shoulder straps make for a comfortable, non-chafing fit, and reflective trim helps with visibility in low-light situations. I haven't had them out in a heavy rain yet, so I can't speak to their water resistance.
They are made with the thoughtful design and quality materials I've come to expect from Assos. They weren't cheap, but they are very high quality. Much more comfortable than other brands I've used.
My only suggestion: add a zipper at the ankles. The snug fit that keeps the heat in and the cold out makes it a little tricky to get into and out of these tights. A zipper would make putting them on and taking them off much easier.
For reference, I am 6'2", 185 lbs, and typically wear pants with a 34" waist and 36" inseam. The large fits perfectly.
Thank you for your feedback.
Cycling Enthusiast
Portland OR
Good down to 38 F
Comfortable, but at 38 degrees F I just couldn't handle the cold, even with a pair of pants as wind breaker. Too hot when the temp is above 60 or so. In between, bliss! 5 stars for comfort of chamois and fit, and quality of build. 3 stars for having kind of limited temp range. (OTOH, maybe I just don't generate enough heat.) So. 4 stars. YMMV
Thank you for your feedback.
1 of 1 customers found this review helpful.
No complaints
For warmth, no cold spots in construction, and comfort for base riding in cold these are very good tights. Pricey but worth the extra money compared to less expensive brands - at least as far as keeping the cold out, which is most important to me. But the cost does not include the Hand of God pushing you at 40 kph.
Thank you for your feedback.