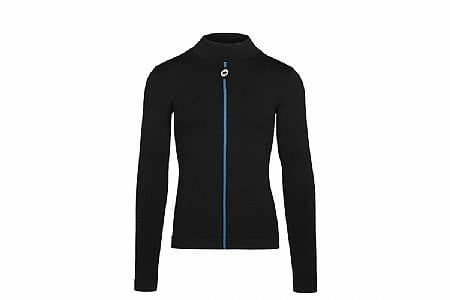 Cycling Enthusiast
San Jose, CA
1 of 1 customers found this review helpful.
Perfect (second skin like) fit, breathable and warm.
Assos is expensive. But, you're paying for quality. Treat their gear properly (wash warm/cool) and hang dry, and it will last for years and years. I rate it a good deal because it costs a lot more than other brands, but it will last twice as long (if not longer).
This base layer is exceptional. I've worn it under a long sleeve jersey when it's been in the mid 40's and been plenty comfortable (when out for a hard ride when I'm raising my core temp). I've worn it under a thicker long sleeve when it's been in the mid 30's and also was warm enough.
I'm 6' 5" & 200 pounds. The sleeves are long enough for my arms and torso with a bit of room to spare. The fit is like a second skin. It's easy to get on and off (stretchy material), but is neither constricting, nor does it seem to stretch out.
Thank you for your feedback.
Cycling Enthusiast
Portland OR
almost perfect
Watch out with the size chart ! I am 6'1"and measuring my chest I come out to size 0. Wrong, way to small. So had to exchange it for a size III. And that fits better. They run short these base layers. Also they are very stretchy. On the positive side it is an amazing material and it is my favorite undershirt. It does keep you warm and it feels just right on your skin.
Thank you for your feedback.
Excellent Base Layer
This base layer worked well under a long sleeve jersey at 40 to mid 50 degrees. I might try it at 30s but I might add another layer - either a vest or a sleeveless undershirt. I'm 5'11" at 190 lbs. and size L fits comfortably well.
Thank you for your feedback.
Cycling Enthusiast
Berkshires