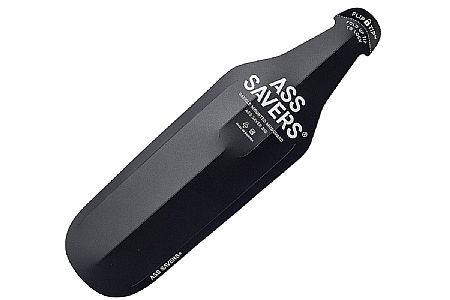 Cycling Enthusiast
Northwest Arkansas
3 of 3 customers found this review helpful.
I almost got it just for the name!
Your rear will thank you, as the clever name suggests - I know mine does! I couldn't believe I didn't get some type of fender any sooner for my gravel bike for the sake of keeping my bike and backside cleaner. The bigger fender size was instantly more appealing than some of the alternatives and I didn't want to worry about losing the fender or having it come loose during a ride. The best part of this fender (besides the name) is the way the flip tip attaches to your saddle rails. The company even has a video on how to properly fold the fender and attach it online. All you have to do is slide the fender through the middle of your saddle and push the flip tip down underneath the curved part of the saddle rails and lock in in place - it couldn't be any easier!
The weather here in Arkansas can go from warm and sunny to cold, windy, raining, and miserable by the change of a day leading to long periods of both dry and wet gravel roads. We have lots of rough gravel and mud here. The fender has stayed on my bike since installing and the only time it comes off is when I'm cleaning the bike. The wide end will flap some while riding over very rough terrain but the fender will not move out of place. It also does a pretty darn good job of keeping the mud off - not perfect, but better than nothing at all!
Yeh, you could probably save yourself some money and make a homemade fender out of an old laundry detergent bottle and maybe get it to work. Personally, I'm not that patient or creative and this fender is perfect for me. I highly recommend it for gravel riding!
Thank you for your feedback.
3 of 3 customers found this review helpful.
Does not fit Drakon saddle
Unfortunately this fender is useless for when used with the SMP Drakon saddle. It is a great idea but not a great design. Went with a different but similar low profile fender and am very pleased.
Thank you for your feedback.
Cycling Enthusiast
Lynchburg, VA
3 of 3 customers found this review helpful.
A very simple solution to shedding mud.
The Big Fender was simple to install. It relies on the seat support to provide a mount and can twist as it is only attached by wedging into the seat frame.
Thank you for your feedback.
Cycling Enthusiast
Colorado and Utah
Cycling Enthusiast
Portland
1 of 1 customers found this review helpful.
Better than expected.
I was initially hesitant but hope about the Ass Saver - not only did it stay firmly attached the whole time, it worked wonderfully in keeping my backside free from road muck and water.
Thank you for your feedback.