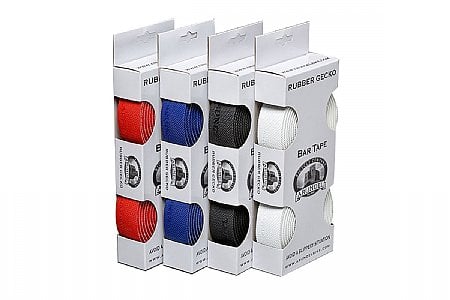 Cycling Enthusiast
Central Oregon
Best Handlebar tape, period!
Put on my gravel bike. Provides plenty of cushon and feels sticky. Haven't ridden in rain yet, but assume it will provide a secure grip. Kept the package in my shop so I don't forget what I used. Will eventually convert all my bikes to this as I replace bar tape.
Thank you for your feedback.
Daily Commuter
Llano Estacado, TX
2 of 2 customers found this review helpful.
Best bar tape I've used
I've used lots of different bar coverings, cloth tapes from the '70's, foam tubes (ugh!) and plastic tapes that were all the rage in the '80's, modern manufacture cork tapes by Cinelli and Specialized and others, and perforated synthetic leather tapes. In comparison to other tape this Arundel Rubber product is significantly easier to wrap. Its stretchiness gives you more leeway to make nice even wraps the entire span of a drop bar regardless of whether you're on a straight or curved section. There's less need to undo and redo and pull hard on a wrap because one side of the tape isn't down tight to the bar. And the finished bar has a nice feel, with good grip and cushion. Unfortunately I can't write from personal experience about long term performance because I put this tape on my Italvega single speed build, and my son liked it so much he took the bike to school. He rides the heck out of that bike in all kinds of weather and I've heard only praise, so that's a strong endorsement.
Thank you for your feedback.
only bar tape I have used the last 3 years
previously, I used the FIZIK 3mm thick bar tape with the fizik silicone padding add-on underneath. I like the extra cushioning for my hands without the bulk as well as the cleanability. at the rec of my bike shop, I tried the Arundel Rubber Gecko Handlebar Tape. it has the same cushioning as my previous set up, but is more durable and easier to keep clean than the fizik. it also less slippery. I presently have it on both my bikes.
Thank you for your feedback.
Cycling Enthusiast
Oakland, CA
Cycling Enthusiast
Bay Area CA
Competitive Racer
evanston, IL
feels great
Replaced worn out Lizard Skins DSP with this tape. I always liked the Lizard Skins, but it wore too fast and is kind of pricey. I got this as an alternative and, so far, it's great. Feels comfortable and secure on the bars. It'll take awhile to find out how it wears, I guess.
Thank you for your feedback.