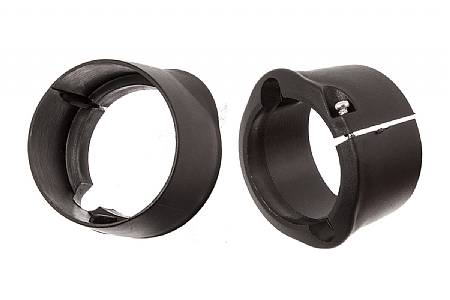 Good ideapoor execution
So I bought these to try because I was tired of the black tape look. First, for a proper fit, your cables need to be in their correct place to fit snugly wthese. The main problem is that there's only one screw(thats threaded into plastic) on only one side of the clip! The other side of the clip won't fully close flush because the screw is on the other end. You need to be very careful not to over tighten the screw because it's just going into plastic and it's easily stripped out. Bottom line- I'm using tape still.
Thank you for your feedback.
Nice accessory
Wow! Before you begin make sure you need to purchase a jeweler screwdriver because the small screws require them. It took 1 hour and lots of patience to install the clips because the clips are not large enough to handle most handlebar diameters. I have the ERGO LITE 7075 handlebars pictured in the Arundel diagram but even with that it took lots of patience in dealing with the mini screws and trying to keep the clips closed while trying to join the clips together. It looks great but it was very frustrating!! God bless
Thank you for your feedback.
3 of 3 customers found this review helpful.
Nifty accessory
Cool and interesting accessory. Works pretty well although the tiny screws are hard to work with ... you need tiny electronics screwdriver and the flat blade works best, Once installed they really look much better than electrical tape. My only gripe is the connection method is a bit weak ... something more substantial would be better.
Thank you for your feedback.
Casual Cyclist
76108 Furth Worth Tx
2 of 3 customers found this review helpful.
Doesn't fit 31.8 Bars
A great idea... to bad they don't work. I couldn't get them to fit anywhere on my Salsa Cowbell 3 bars on my commuter bike that gave a reasonable amount of coverage on the flats. They would fit on the narrow section, but that didn't give nearly enough room on the flats. They don't fit anywhere on the tapered section, and most certainly not on the full size section around the clamp.
Thank you for your feedback.
Cycling Enthusiast
Los Angeles
4 of 5 customers found this review helpful.
Good idea. Bad execution.
I like the idea of a clip vs tape, cut these didn't work out as planned. They don't seem to clamp all the way around your typical 31.8 handlebars like my Ritchey Classic. I'm not even sure if they would around old retro handlebars as I attached them at the thinnest part of the tops I could find, not the fat and tapering sections. I took them off and used the tape again. Hopefully someone else will figure out how to make these work.
Thank you for your feedback.