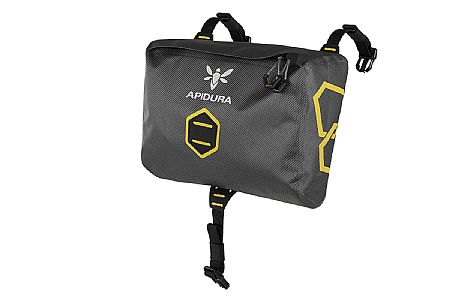 Daily Commuter
Olympic Peninsula, WA
Extra capacity on an Apidura handlebar bag
This accessory pocket clips on to an Apidura roll handlebar bag. I use the smaller size roll bag from Apidura because it has just enough room to carry a summer weight sleeping bag. This bag clips on to the roll bag and can store snacks, maps, extra gloves, sunglasses, etc. It attaches securely, but I wouldn't use it to carry anything too heavy because it might shift around a little. For lightweight, waterproof storage though, it is high quality and seems watertight.
Thank you for your feedback.
Cycling Enthusiast
Cranbury, NJ
Competitive Racer
Orem, Utah
3 of 3 customers found this review helpful.
Just what I needed
The Apidura Accessory Pocket-Dry was a valuable addition to my bikepacking kit. With the water tight dry bag roll on my handlebars, I needed somewhere to carry a headlamp, sunscreen, chapstick, battery pack, and other needed items. This pocket kept things close at hand and accessible. It was a challenge to open while riding, however, I appreciate the water proof zipper and close at hand accessibility. Very well made and designed. I love how it attaches to my Apidura handlebar roll. It is adjustable as far as where it sits on top of the roll. Just about the right size for key items. Very happy with my Apidura kit.
Thank you for your feedback.