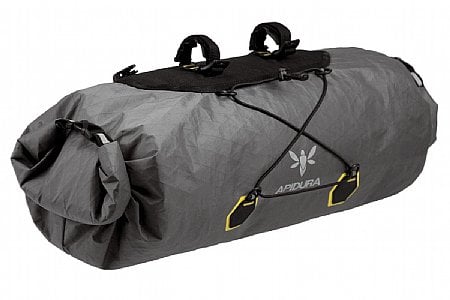 Cycling Enthusiast
Cranbury, New Jersey
3 of 3 customers found this review helpful.
Terrific bag. Allows you expel air & completely waterproof. I bicycled with it across the US
I used this bag to bicycle across the US. It is terrific. The attachment is secure, it is completely waterproof, & you can expel all the air from the bag.
I highly recommend it & would not buy any other bag.
Thank you for your feedback.
Daily Commuter
Philadelphia, PA
3 of 3 customers found this review helpful.
Compact little roll that gets some weight off my back.
I use the Apidura Handlebar Pack on my commute every day. I like that I can put it on any bike, it has a tight little shape that fits between my handlebar curls and stays put when i slam into potholes. It's easy to take on and off and the accessory bag clips on in a very well thought out way. I added a shoulder strap and that worked out great for walking around town. It fits some tools, a chain lock, a change of clothes and some other junk that I carry around with me. Sometimes I take off my jacket or my gloves and tuck them in the crisscross bungees mid ride when I get warmed up, I really love that feature. The accessory pack is a great addition for my wallet, phone, and some snacks.
Thank you for your feedback.
Casual Cyclist
Westchester, NY
2 of 2 customers found this review helpful.
Good Bag for Credit Card Tour
I purchased this bag for a three day credit card bike trip, where I was also using a seatpost pack for larger items. The bag worked well for smaller items (threw some sandals in there and some extra repair kit stuff, and a paperback book). On a road bike, the space is limited by the distance between your hoods, and that was a bit of a pain to deal with. But the bag didn't move and the bungee in front was great for a light and to hold a lightweight jacket on the outside of the pack.
Thank you for your feedback.
Lightweight handlebar pack
Compresses to fit inside my drop bars or can really use even more volume if it�s on my mtb bike. On the drop bar setup, I can get my tent, rain jacket, puffy jacket, and hat and gloves inside and have just enough room for my hands on the shifters. I later bought the add-on pack that snaps on to this bag for electronics, snacks for the day�s ride, and ditty bag items.
Thank you for your feedback.
Cycling Enthusiast
Fontana ca
Cycling Enthusiast
Mountain View, CA
1 of 1 customers found this review helpful.
Worked well for credit card touring
Works well, light weight, end rolls provide flexible sizing. Glad I got the larger size. Did use a light velcro strap around the middle to compact loose items and improve tire clearance on my wife's smaller frame. While it mounts pretty easily, items aren't accessible without pulling off bag, so not the place to keep stuff you might need during the day.
Thank you for your feedback.