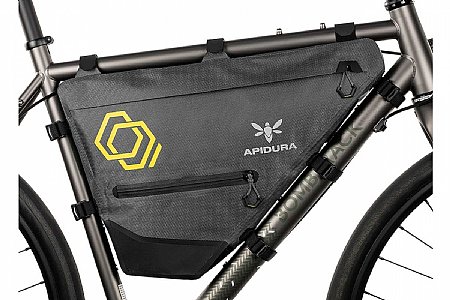 Cycling Enthusiast
Cincinnati, OH
A true must have for bike packing
I just recently did a Bike Packing trip and left my finalization of plans too late. I had a frame bag from another bike that ended up not fitting my Trek CheckPoint bike that I was taking on this trip. Uh oh what now. I am a week out from leaving - so BTD is my go to source despite them being 2400 miles away, because they use USPS Priority Mail and get stuff to me in 2 days. I have other Apidura bikepacking bags and looked to see if this frame bag would fit. Looked like a perfect fit for my frame, so I ordered one. Two days later it arrived and I fitted it to the bike - perfect.
The right side has two zippers and that space can be set up for the entire space or it can be cut in two using an internal shelf that velcros to the side. I put my heaviest stuff in the bottom compartment and then put other stuff in the upper section. The left side, near the top, has another long and thin compartment that was perfect for my pump and those paranoid things you keep checking for like your phone and wallet.
The bag is well designed and well made. It is rare that I use a product and end up saying - it is just right on all counts. I have no suggestions for improvement , it is a great bag.
Thank you for your feedback.
Cycling Enthusiast
Chicago
0 of 1 customers found this review helpful.
Was too big for a 55 bike
The bag itself is very nice, but like I said if you an average sized person on a MML bike, this thing will not fit. I returned in favor of the Blackburn medium frame bag
Thank you for your feedback.