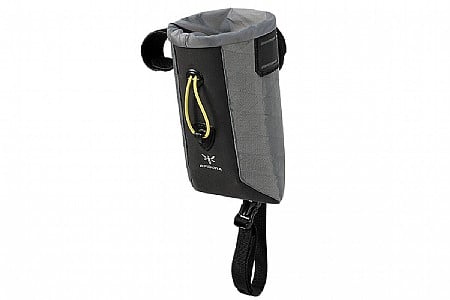 2 of 2 customers found this review helpful.
Inexplicable closure design
Closure cord does little to keep top closed or bottle secured. The hook for the elastic loop does nothing useful. Bag seems thin and poorly insulated compared to much less expensive off brand versions found elsewhere.
Thank you for your feedback.
Cycling Enthusiast
Toronto, Canada
2 of 4 customers found this review helpful.
Provides readily accessible space - attaches securely without swaying
Two velcro-type straps (one of which can be re-located in different positions) near the top of the bag for attaching to stem & handlebar a web strap at the base which can be attached to whatever is convenient (usually the head tube on a road bike)to provide stability.
Elastic cord to closeopen the top - simple to operate on-the-go.
Does not hold a huge amount - I use two (I find difficulty in accessing all the rear pockets of jersey on-the-go as advancing age is perhaps limiting right arm flexibility),
Works well from my perspective (but do not have experience with any other brands) - marked down to 4-stars for value as shipping to Canadian address is expensive
Thank you for your feedback.