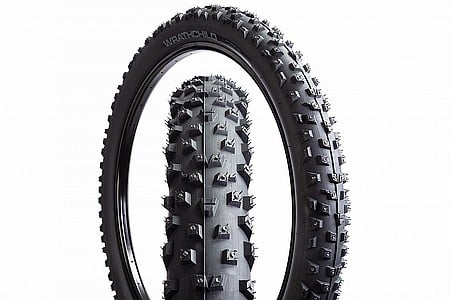 User submitted reviews
Review by Anonymous

Cycling Enthusiast

Vermont, USA

Fantastic Studded Winter Tire for my Plus Bike

Loving the grip of these 45 N Wrathchilds. They have amazing grip on ice and crusty snow,

will see how they handle deeper snow conditions . I use these mostly on plowed dirt roads and trails on my

Full Susp. Plus Bike in winter. When the snow gets deeper I will be on the Fatbike with 4" Studded Dillingers.

Bring it on ! Super quality tires , great service and speedy delivery from BikeTiresDirect !

Keep up the great work.

Thank you for your feedback.
Review by Big Bear Biker

Daily Commuter

Big Bear Lake, CA

Great winter tire for commuting to ski resort!

Put these tires on my bike for the winter commute to work at the local ski resort. The first ride was on iced-over roads and I experienced no sliding or skipping as I peddled uphill. Great tire, I couldn't be happier with my purchase.

Thank you for your feedback.
Review by Anonymous

Daily Commuter

Marquette, MI

2 of 2 customers found this review helpful.

Excellent traction in snow and ice

I use these as winter tires on my Sondors MXS E-Bike. I have been riding on completely ice covered roads with absolutely no issues. Very confidence inspiring.

Thank you for your feedback.