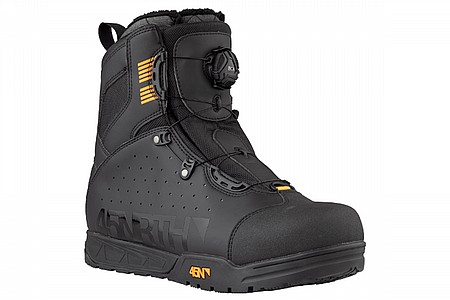 Daily Commuter
Twin Cities and WI
1 of 1 customers found this review helpful.
Great warm and comfortable
I live in the Midwest, we get snow and lots and lots of cold. I have always had issues keeping my hands and feet warm. I've solved the hand issue last year but my feet still continued to be cold. I purchased these boots after getting a recommendation from a guy I met in northern MN at a mountain bike race. I purchased a size larger given I'd be wearing a liner and wool sock.
I've ridding with these boots 250+ miles so far this winter, from temp in the single digits to the mid 20's. My feet have never been cold in these boots - they are remarkable. I have Crank Brothers egg beaters, the boots work great with them (with the required shim).
100% endorsing these boots!
Thank you for your feedback.
Cycling Enthusiast
New York
Cycling Enthusiast
Central NY, USA
Warm boots make snow biking much more enjoyable
Very happy with my purchase of the Wolvhammer. I ride throughout the snows of upstate NY (US) winters, where temps will often drop to 0 degrees F. My prior winter boots didn't hold the warmth, especially at the toes, so I would have to supplement with a heated insert. These boots are both warm and waterproof. Ordered a 1/2 size up from my normal foot size to accommodate a thicker sock and fit is excellent.
Thank you for your feedback.