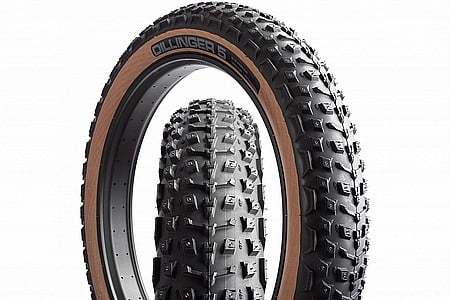 User submitted reviews
Review by Anonymous

Cycling Enthusiast

North West Illinois

Let it snow Let it snow...45Nrth Studded tires

I look forward to winter riding, especially fat bike biking on the local mountain bike trails, but icy conditions shut down the action. No matter how big and knobby the tires, bare rubber never grips on bare ice. I got the Dillingers this fall and now that snow and ice have arrived I've had a chance to try out the studded tires - what a difference they make ripping' the trails and carving the corners just like firm dry ground. The tires seem to have the right depth of tread for groomed trails - deep enough to grip in powder, but shallow enough in the center to make for smooth rolling on hard surfaces. Lots of studs for grip on ice. The tires were easy to set up for tubeless running. Gonna be a fun winter.

Thank you for your feedback.
Review by TL

Incredible float and grip plus they look cool

Outstanding quality tire, should last well into the future. Great grip, float, and most importantly, Biketiresdirect had in stock (as usual during covid) and the best price.

Thank you for your feedback.