Portland Design Works
Cycling Enthusiast
Vancouver BC
Excellent quality. No rattles.
These mudguards are mounted over 32mm Continental GP 5000TL's. And they fit. Just. They provide excellent coverage and are silent. The mounting system is good and easily adjustable with an allen key. One minus- the stays are just long enough for mounting to the QR with the included hardware. This means that the rear stay is too short to mount directly to the seat stay if you have threaded bosses. The QR hardware allows mounting to the seat stay, but is not the tidiest solution.
Thank you for your feedback.
Cycling Enthusiast
Willamette Valley Oregon
It just works! Takes up almost no space, too.
This inflator is an improvement over my old one - it does all the old one did at a tiny fraction of the size. I was using an enclosed-cartridge inflator that used cheaper threadless CO2 cartridges. I realized at 2-3 flats per YEAR, the savings weren't worth carrying my old bulky inflator.
Haven't *needed* to use this inflator yet, but like all ride-critical tools, I home tested it, "wasting" one cartridge. It worked just fine. The valve on the inflator was easy to operate. The cartridge DOES get seriously (dangerously?) cold, but wrapping it in a cycling glove solves that problem.
Thank you for your feedback.
Well designed leading to straight-foward installation
Fenders are pretty much a necessity in the Pacific Northwest and these full metal fenders from Portland Design Works seem to be up to the task for extended use. Extra hardware included to adapt to a variety of installations. I deducted 1 star for the black crinkle finish on mine. Even though I was reasonably careful during the installation, the bracket for the rear fender did rub through the finish, however, it was hardly noticeable when installed on the bike. I worry about how well the finish will hold up over time. But I know the fenders will work as intended.
Thank you for your feedback.
1 of 1 customers found this review helpful.
A Solid Set of Fenders
I liked everything about the fenders except for a few minor details I'll share later. So I should give these 4.5 stars.
The fenders and the installation hardware were top notch. And as an added bonus, the installation was very easy unlike my other fenders. The only thing I had to was lose 14 of the stays (a few strokes w hacksaw)
I put them on my 2013 Salsa Vaya touring bike. I got these to replace my Handsome Mud Butlers because they didn't provide enough wheel coverage. These definitely provide ample coverage to keep sprays away from chainrings and bottom bracket. And so far they are rock solid and I don't see any reason why they'd be otherwise way down the road.
The design, finish, and hardware were top notch as well. I love the matte finish and the angular shape over the conventional round shape. They made my bike look classy and confident at the same time.
Ok I'm very nit picky when it comes to product design. I wish the fender stays were black like the fenders. The bare silver aluminum looks incongruous and conspicuous. The silver stays would be fine for the gray fenders though. Second, they don't provide a bolt to fasten the rear fender to the crossbar on the chainstays, they give you a piece of plastic wire tie (yuck). So I can sleep peacefully at night, I found a stainless steel bolt to attach it.
Other than the aforementioned minor details, these are the best metal fenders to date. So, if you want a set of classy, easy to install fenders w ample coverage get them wo reservation.
Thank you for your feedback.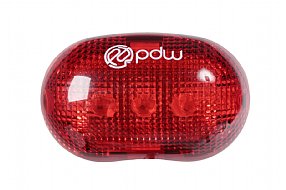 Total Savings:
$3.99 (22%)
Earn $1.40 store credit
Total Savings:
$5.99 (17%)
Earn $2.90 store credit
Total Savings:
$4.00 (13%)
Earn $2.49 store credit