Muc-Off
1 of 1 customers found this review helpful.
Great stuff, but you'll need an empty bottle
Excellent cleaning product! Spray it on, let it sit a few minutes, hose it off. Really makes your ride sparkle. Perfect for after a long, dirty ride when you really don't have the energy to fill up a bucket and wash.
But pay attention to the directions. It needs to be diluted! You'll need an empty bottle to pour it into, and the bottle is marked so you can't screw it up.
Thank you for your feedback.
Cycling Enthusiast
Central Oregon
1 of 1 customers found this review helpful.
High quality with core removal tool
I started using tubeless road tires this year and I wanted a sharp looking stem for my hot wheels. My goal was to get a clean look on my Bontrager XXX 4's. I went with the 60mm in black, hoping they would not be too short. After experimenting with the different sets of grommets provided, I got the fit I wanted. I have enough length for inflating, and not too long so another squirrel tries to run through and take out the stem. A rubber o-ring, followed by the stylized cinch nut, polishes off the look outside. The core removal tool / stem cap works perfectly and can ride along if one chooses, at a slightly higher profile than the cap provided. Its the Swiss Army knife of valve stems.
Thank you for your feedback.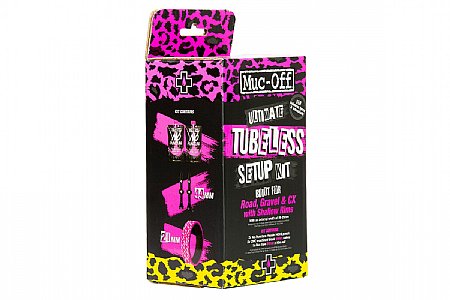 by
Simon (Chicago hub leader of Project Hero)
Cycling Enthusiast
Harvard Illinois
Cycling Enthusiast
Olympia WA
1 of 1 customers found this review helpful.
Best drivetrain cleaner I've found!
Living in the Pacific NW with several months of rain each winter, my drive train gets plenty dirty on a weekly basis, Muc-Off Drivetrain cleaner does an excellent job of cleaning even the most dirty drivetrain (cassette, chain, and chain wheels) to make it look like new! It sparkles ... well maybe not really, but it's really clean. Works just as well in the summer too. Just follow the simple directions, spray on and let sit for a few minutes, then scrub with soapy water (I use a brush, just to reach down in the cassette and between chain links), you don't need to scrub much or hard ... the dirt and gunk will just fall away. Rinse and dry and ready for lube! Couldn't be easier or more effective!
Thank you for your feedback.