Michelin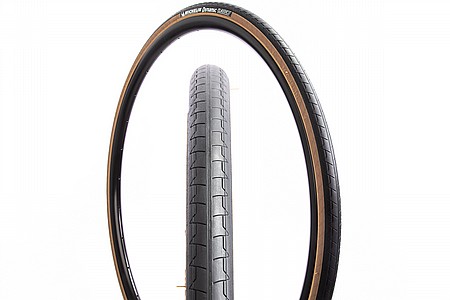 Good value tire for the price when its on sale
I refurbish older vintage steel bikes and need a tire the fits the period. The dynamic classic is the most affordable vintage looking tan sidewall available. It seems to ride good enough and so far with only a few hundred miles has held up against flats. When on sale they used to cost not much. HOWEVER, BTD DOES NOT DISCOUNT THEM MUCH ANYMORE.....HINT HINT. If they did I would buy more often. A second thing I like is the size of the 25 and 28mm are close to what the claim is- just a bit under on 19mm rims. Other companies can be way off! Bought some American Classics and their 25mm was actually 22.5mm! rip! If I wanted 23mm tires I already have a stack of them in the back.
That said these are a bit on the heavy side when compared to more expensive tires but thats to be expected given the price. A 25mm is about 310g each. Your adding about 80g per tire when compared to say a Conti 5000. It is rotating weight which will effect acceleration a bit. So if you are not a weight weenie nor are you pounding crits where every second counts you will be happy with this tire base on its affordability and cool vintage look.
Thank you for your feedback.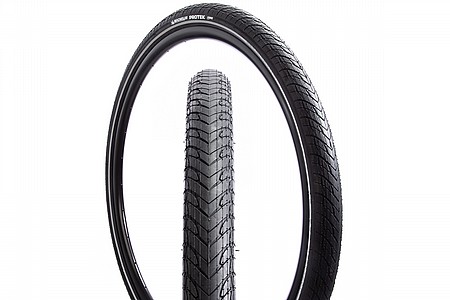 Ohio - Rails to Trails Capital of America
Quantity tire, nice ride
I've been using Michelin tires for years and have never had a tire failure (or even a flat tire) over the thousands of miles my wife and I have ridden. These tires are mounted on our converted Mountain/Touring bikes, hauling 35 to 50 extra pounds of gear with no problem. I also like the small reflective band that goes around each side of the tire. Very noticeable at night, which we do a lot of riding in the evenings/night. It's a good tire!
Thank you for your feedback.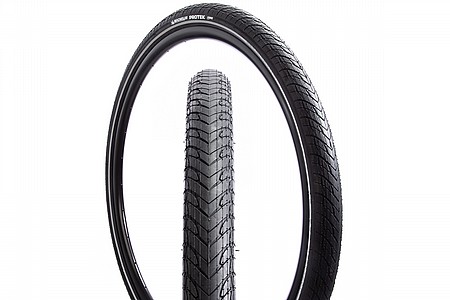 Cycling Enthusiast
Tampa, FL
2 of 2 customers found this review helpful.
Perfect tire for my winter riding
The Michelin Protek tire is the best value for my hybrid bike. Each day after work, I ride twenty miles During the .winter months, half of my ride is in the dark and sometimes in wet conditions. I have peace of mind knowing that cars can see me because of the reflective sidewall; they have excellent channeling of rainwater and high puncture resistance. Not too difficult tire to mount, a durable tire at a great price. My go-to tire for my hybrid.
Thank you for your feedback.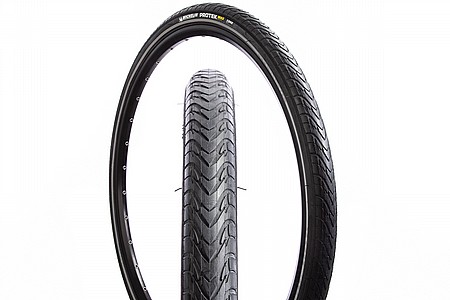 1 of 1 customers found this review helpful.
Good handling, stable tire.
I got these to replace tires on a used Trek 7.7 FX that we're worn. These hold the road when going onto the shoulder, don't get flats, and ride comfortably. I ride for exercise and to stay in shape, so these are perfect for my needs. I'm 77 years old, so I'm not into racing, but. I enjoy putting the miles on with this bike/tire combination. The best part is not having to patch tires on the side of the road, or walk the bike home here in Southern CA busy roads! On sale, these tires are a great value, too.
Thank you for your feedback.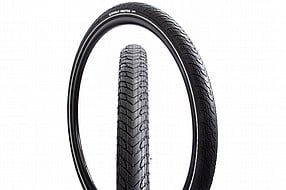 Total Savings:
$7.00 (25%)
Earn $1.04 store credit
Total Savings:
$18.00 (30%)
Earn $2.09 store credit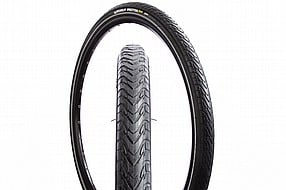 Total Savings:
$10.00 (21%)
Earn $1.84 store credit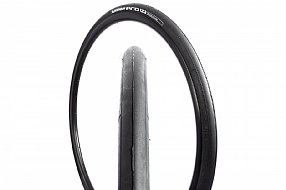 Total Savings:
$17.08 (28%)
Earn $2.19 store credit
Total Savings:
$5.00 (20%)
Earn $0.99 store credit
Total Savings:
$5.00 (20%)
Earn $0.99 store credit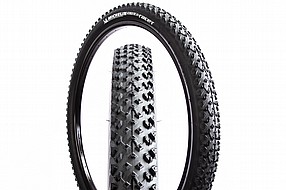 Total Savings:
$12.00 (20%)
Earn $1.43 store credit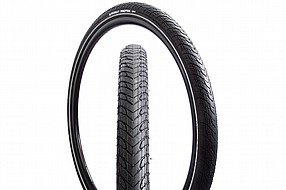 Total Savings:
$7.00 (25%)
Earn $1.04 store credit