Kenda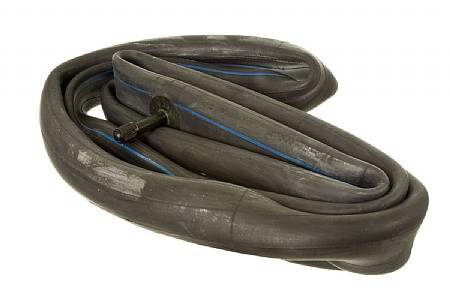 Perfect replacement fo Schwinn vintage bikes
I have never found a thick heavy duty tube like this Kenda. I needed 2 to replace 40 year old rotted tubes on a Schwinn Suburban bike. These fit perfectly. No problem with the install. I took my time and was able to put these on by hand without tools. Bike tire spec'd 60-100lb pressure. I used 70lb as was stated on the old Kenda tires with no problems. Only had them on for 2 weeks but they ride fine and hold air. These will probably rot out before they are worn out. Worth the money. BikeTiresDirect provided easy ordering and fast service. I like the fact that if something is out of stock, they will put in an expected in stock date.
Thank you for your feedback.
Cycling Enthusiast
Richmond, VA
1 of 1 customers found this review helpful.
Great versatile tire for my gravel bike
So far I've ridden these a few hundred miles on anything from intermediate mountain bike trails to gravel to city streets and they've performed great on everything. They're nice and durable on rocks and roots, grip dirt corners well, and roll easy on asphalt or gravel. Got them on sale for a great deal too. My only complaint is that the tread is rather lop-sided or somewhat off-center at some points on one of the tires I got, but I was able to remedy that pretty well by inflating it with more air to set/align it better and it stayed good even when lowering the psi back down to normal.
Thank you for your feedback.
Cycling Enthusiast
Eureka, CA
2 of 2 customers found this review helpful.
Good Efficient Tire for Converting a Mountain Bike to a Flat-Bar Roadie
I converted my late fathers mountain bike to a flat-bar road, and decided it was time to get rid of the slow mountain tires. I bought the higher pressure ones, and run them at 90 psi. They are very fast and smooth. My only complaint is that they are not great on wet ground. I took a bad fall riding relatively slow on a metal bridge just after a rain. In dry weather they are fine. They appear to be super durable. I have 1000 miles on mine with no flats. I do run them with Tuffies for added protection. I expect they will last 2000-3000 miles with proper care.
Thank you for your feedback.
Competitive Racer
Chicago, IL
1 of 1 customers found this review helpful.
Rolls well, but heavy
A few years back these were pretty good tires. They are robust for sure and have a ton of tire down the center with plenty of tread to keep you moving forward.
I'd only use these for training now-a-days because they are quite heavy compared to the competition. (2019-2020).
I'd say that if you are looking for a cheaper, rugged tire that will keep you rolling these tires can be a great option and they are usually on sale. However, if you are doing gravel races and need to watch weight, these are significantly heavier than other tires on the market which offer similiar or better performance characteristics.
Thank you for your feedback.