Kenda
Cycling Enthusiast
Bend Oregon
Fantastic Traction!
I purchased these as I needed a tire with better traction across a lot of riding conditions. Was a little concerned about if they would roll too slow. Have about 300 miles on them now and these tires have fantastic traction! You can really depend on them when railing into a corner fast and on rough stuff. They are a little slower then a tire that is made for speed but then again made for speed tires do not have good traction. I noted when you get over up to about 4 or 5mph these tires roll very fast! I was very surprised at how fast they roll for a aggressive tire. They are holding up very well and the weight is no more then some other tires that are only 2.3 in size.
Thank you for your feedback.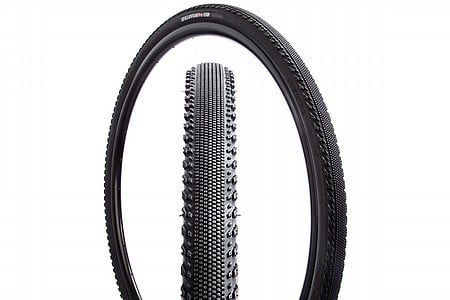 Cycling Enthusiast
Richmond, VA
2 of 2 customers found this review helpful.
Great versatile tire for my gravel bike
So far I've ridden these a few hundred miles on anything from intermediate mountain bike trails to gravel to city streets and they've performed great on everything. They're nice and durable on rocks and roots, grip dirt corners well, and roll easy on asphalt or gravel. Got them on sale for a great deal too. My only complaint is that the tread is rather lop-sided or somewhat off-center at some points on one of the tires I got, but I was able to remedy that pretty well by inflating it with more air to set/align it better and it stayed good even when lowering the psi back down to normal.
Thank you for your feedback.
Competitive Racer
Chicago, IL
1 of 1 customers found this review helpful.
Rolls well, but heavy
A few years back these were pretty good tires. They are robust for sure and have a ton of tire down the center with plenty of tread to keep you moving forward.
I'd only use these for training now-a-days because they are quite heavy compared to the competition. (2019-2020).
I'd say that if you are looking for a cheaper, rugged tire that will keep you rolling these tires can be a great option and they are usually on sale. However, if you are doing gravel races and need to watch weight, these are significantly heavier than other tires on the market which offer similiar or better performance characteristics.
Thank you for your feedback.
Competitive Racer
Maryland
5 of 5 customers found this review helpful.
Awesome tire when you get the right one(s)
I did Dirty Kanza 200 on these in 2017 and they performed flawlessly ... that is after having to send two of them back because of a visible wobble that seemed to come from some issue with the sidewall sticker and the tire. Once I replaced the wobblers they were awesome and performed well for about another 2K miles after the race, to include a couple days of light bikepacking in Vermont. I ran them tubeless on CX tires from Velobuild.com. I just returned from DK 2019 training camp and one of my fellow campers had a new pair set up on his bike and it appears that they figured our how to place the stickers on the sidewall without causing the wobble now - I will definitely replace the standard tires on my new bike with these babies a couple weeks before the race.
Thank you for your feedback.