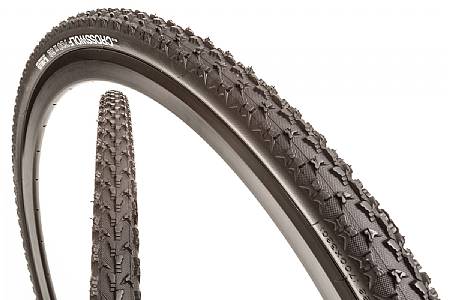 Competitive Racer
Mid Atlantic
Cycling Enthusiast
Central Valley, CA
2 of 2 customers found this review helpful.
Great all around tire, holds up well.
I race this tire, as well as use it for every day riding. I had the same tire on my son's cross bike, if these tires can withstand a 15 year old with no sense of caution, they should work for you. I am also very impressed on how fast they roll. This is a great tire.
Thank you for your feedback.
Competitive Racer
Portland, OR
1 of 1 customers found this review helpful.
Great Tubeless Cross TireNOT for mud
This is a fantastic tire for intermediate, slightly damp conditions, but certainly no good in the mud.
For those early October races on grass and and tacky singletrack style courses, this tire is the money. I set them up tubeless on my DT rims on my Asylum Meuse. Very simple to set up on those rims. Snapped in place easily and I've been able to run very low pressures for my weight (30psi and I'm 180lbs).
The one, rather large, downfall of this tire is its inability to race in very slippery mud. The tire packs up really easily and you don't have large enough knobs to get adequate purchase in slippery conditions. If you raced Cross Crusade Alpenrose 1 in 2014, you know the kind of conditions I'm talking about. Absolutely no traction in the first two laps. Scary as hell. Then again, when the sun came out and the course started to tack up, it was a great piece of rubber. I'd personally take a more aggressive style tire for days like that though.
Thank you for your feedback.