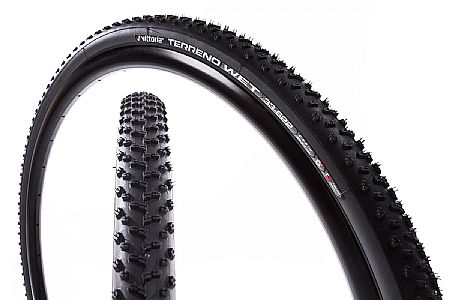 Boise, ID but racing all over the PNW
Fantastic
The Terrank Wet is a fantastic CX tire. I have used it as a front tire for mixed conditions (with a Terrano Mix in the rear) and I have been very pleased. I run it at 32 psi (I weight about 155) and it is very confidence inspiring.
Thank you for your feedback.
Casual Cyclist
Portland, OR
2 of 2 customers found this review helpful.
Sticky knobby CX perfection
I like 'em. They're a good value. I run 'em with a low PSI, tubeless and with confidence on...wet gravel! They are plush and comfy yet, at 33mm, give me just enough clearance on my CX frame. Are they fast? I have no clue. I ride with a self preservation mindset 100% of the time. Hence a sticky wet gravel compound on my bike so I don't kill myself out there, or find myself picking tiny gravel pieces out of a bloody shin.
Thank you for your feedback.