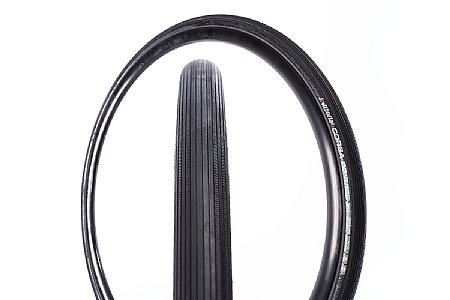 Great grippy wet-weather tire
Yes, if you look up the drag tests these tires do have more rolling friction. But that is exactly why I bought them. We had record rainfall this year and I rode on wet pavement with the controls several times. They have great grip in the turns and you have a lot of confidence in those conditions. The tread does grab and throw a lot of small debris. I will probably leave the front tire on during the summer.
Thank you for your feedback.
Cycling Enthusiast
Indiana
So far so good!!
Picked up this version of the Corsa G, as I love this tire, but was getting too many flats with the normal Corsa G. Not pinch flats, just small debris getting through. So far, approximately 700 miles or so and no issues at all. I can't really tell any difference in the suppleness, so this could be my go to tire from now on!!
Thank you for your feedback.
Great winter training tire
I originally bought these for racing in Northern CA. Roads are rough so durability is important. However, compared to my Conti 4000 I found the GP Controls heavy and sluggish. Ill continue to race on my Contis and have converted the Vitorias to my winter training tire. Tread pattern is great for wet weather and durability seems well done.
Thank you for your feedback.
Cycling Enthusiast
Saratoga Springs, NY
Love them
I picked up a pair for late season, winter, early season riding. Previously I rode Continental Gatorskins 700x25. Not sure if its the tire or the 700x28 size or both, but these are way more plush and noticeably more comfortable. I have about 500 miles on them, smooth pavement, rough pavement, hardback dirt roads with no noticeable wear and zero flats. Looking forward to trying some Corsa Gs when things warm up again. Im a fan.
Thank you for your feedback.