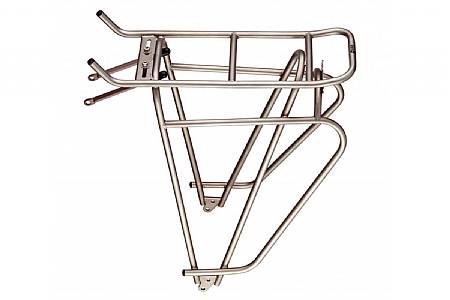 Cycling Enthusiast
Redding CA
1 of 1 customers found this review helpful.
The stainless standard of bike racks
Very nice stainless steel rack. The installation was a piece of cake and there is a great place to attach the rear light. Expensive but definitely a quality rack to last many years.
Thank you for your feedback.
by
Stacia
(BikeTiresDirect.com Staff)
Cycling Enthusiast
Portland, OR
10 of 10 customers found this review helpful.
Is this thing gorgeous or what?
I bought this rack for my cross-country tour a few years ago before we carried Tubus here at BTD. I admit, I chose it in part for its stunning good looks, but let me tell you, this rack is SOLID. Installation was straightforward and painless, and it hasn't budged since - haven't even had to tighten the screws. No rattling or vibration whatsoever. When I tour, I carry two heavy Ortlieb panniers PLUS a drysac containing my tent and sleeping pad across the top. Nice mount for my tail light, and the little lift on the platform at the back keeps it visible even when the rack is loaded with stuff. Plenty of attachment points for various panniers. This is a whole separate category from the cheap aluminum rack you've got on your commuter. A whole new world!
Thank you for your feedback.