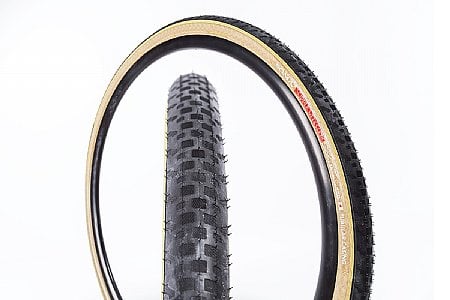 Face off Supple Vitesse EX vs Shikoro
Have the Shikoro 38mm on rear and 38mm Supple Vitesse EX on the front of my Soma San Marcos. The Shikoro measures 37mm and the Vitesse 38mm on HED Ardennes wheels...both should measure more on these wide wheels. Have had the Shikoro for over 10 rides with no problems and only one ride on the Vitesse. The Vitesse was extremely hard to mount and had to use a lever, but after the first ride took off and it remounted easily as it had stretched. Really like both. The Vitesse appears to be about 12 the thickness on tread and sidewall as the Shikoro. I would not run the Vitesse on the rear as I want more rubber on the road. Ride exclusively on roads and here in San Diego we only have goatheads seldom. I seriously doubt the Vitesse has much flat protection. I'd run Gators if they came in 38s....As the one review writes these roll well and are fast tires. Will buy in the future. Like the way they look and perform.
Thank you for your feedback.
1 of 3 customers found this review helpful.
Great rolling tire - zero flat protection
Super supple? Yes. Fast? Yes. light? Yes. Puncture protection? None at all. I attempted to use a 38mm set on my cross bike, setup for a bikepacking trip in the Dominican Republic. About 5050 on road and off. And generally inflated to around 50 PSI. These tires have a fantastic ride. Very low rolling resistance, and surprisingly good off-road grip on hard pack, which they handle perfectly, and on mud and looser surfaces, on which they do an admirable, and totally manageable, job. On the road, they are dream clouds floating you along until... they puncture. I think in 10 days of continuous riding, there were 2 days I did not get a flat. Some days I got two, and one day I had three. I have never had tires flat so much, and sadly, wouldn't really recommend them because of this. As means of comparison, I have been riding Challenge Strada Bianca's on my citycommute bike in NYC and DC for over two years and had zero flats. Previously on my cross ride (which is generally used to ride from the city to the woods, around, and back) I have been running another Panaracer tire, the T-Serv, and maybe had one flat in the last 10 years. The Challenge's are just as supple, a bit quieter, and at least as fast. The T-Servs ride the like the messenger tires they are, but are essentially indestructible - in fact in 20 years on this tire the only time I got a flat was riding through a vineyard in CA and took about 15 goat heads to each tire (needed two new tubes after that lesson!). So the SOMAPanaracer is a lovely smooth tire, but offers barely more that bare inner tubes for protection. A shame Soma decided not to use some of the better Panaracer puncture tech to make these workable tires.
Thank you for your feedback.
Cycling Enthusiast
Sierra Foothills, CA
1 of 1 customers found this review helpful.
Happy to see these at BTD.
These have quickly become one of my favorite tires, I've used the 28 and 33mm versions, and just put a set of 23s on a bike that doesn't have much clearance. They're reasonably light, even in the larger sizes, mount pretty easily, and the ride is outstanding. Rolling resistance also seems very good. I've yet to have a puncture (knock wood), even though we're in goathead country. Also one of the best looking tires around, with the tan sidewalls.
Thank you for your feedback.