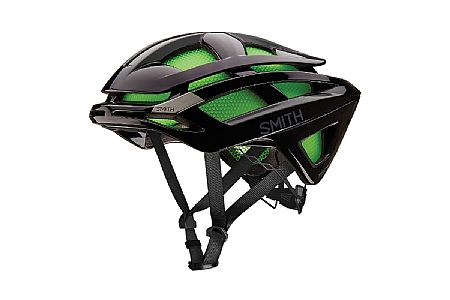 Cycling Enthusiast
Bethlehem, PA
8 of 8 customers found this review helpful.
Great helmet!!!
Just did my first ride with this helmet and loved it!!! The helmet is well-made, lightweight and fits perfectly. It was 90 degrees outside when I left and the helmet was cool and comfortable.
Thank you for your feedback.
Cycling Enthusiast
Alexandria, VA
4 of 6 customers found this review helpful.
light, eye catching, comfortable
I'm giving this four stars because in my opinion some minor fit and finish issues (appears the plastic mold isn't 100% perfect, minor imperfections around edging and other very minor - but nevertheless present - cosmetic flaws). Other than that, it looks and feels like its price would suggest. I didn't try it on in the store but I figured since the return policy is so good it didn't matter. I have found, over the course of wearing the helmet more, that the straps behind the ear tend to be a little close the ear, although that may just be the engineering. I also have the type of head that seems to wear helmets a little further back (rides up in the front more than I would like, based on aesthetic preference), but I have yet to find a helmet that sits to my liking, and this one is better than my last (Uvex). The venting is something I was a little concerned about, but it seems fine so far. I've yet to have it out in 90 temps, so we'll see how the summer heat effects cooling. I went with the bright yellowgreen and it is very bright to the point of nearly being obnoxious, but that was the point. I'm confident that others are going to spot this thing from quite a distance away, and while its not reflective, it still gives me some piece of mind that it might catch a drivers eye during the daytime. All in all, I'm very impressed with the helmet but its just not quite a 5-star all around.
Thank you for your feedback.
Cycling Enthusiast
Southern California
1 of 1 customers found this review helpful.
great helmet
This helmet fits well if a little snug. It never moves when on my head. I thought the honeycomb interior might block the air movement. However, my head has never felt so cool. Seems like a blast of wind on my head at all times. Almost feels like nothing on my head - light and compact. Pricey, but worth it for the feel. If I can afford it, I would buy another when this one expires.
Thank you for your feedback.
Cycling Enthusiast
San Francisco Peninsula
3 of 4 customers found this review helpful.
Lightweight and cuts through the air
The first feeling I got from this helmet was how light it is. The fit was a bit snug; in fact, the top of the helmet dug into the top of my head. Maybe I am more pointy-headed than most but I found that by relaxing the straps just a touch I still get a secure fit without pressure. I wish that the helmet came with slightly more plush outfitting.
Ventilation is adequate but I haven't ridden in the heat of the summer with it. You don't feel the wind rushing through your hair but heat does radiate out. If I'm doing a long climb I don't usually get much wind at my pace anyways.
When I am descending though, I really like how the helmet slices through the air. I can take a look behind for traffic and don't feel the wind pulling at all. It just feels slick.
Thank you for your feedback.
Competitive Racer
San Diego, CA
3 of 3 customers found this review helpful.
I love this helmet
I've owned a lot of helmets over the past 10 years including top-end helmets from Bell, Giro and Catlike. This is the most comfortable helmet I've owned. It fits snugly on my head and, unlike every other helmet I've owned, stays in place and doesn't have to pushed up in front.
I own the blackblack one and I was a bit worried that it would be hot. But I've ridden it in 90 degree temperatures many times and it vents quite nicely.
It's also a very sharp looking helmet. I get lots of comments and questions about it and a number of my riding buddies have also bought one.
Thank you for your feedback.
Cycling Enthusiast
Seattle, WA
2 of 4 customers found this review helpful.
Lightest helmet I've every had!
Very light, comfortable helmet. Seems like it should have good airflow, but the warmest I've ridden with it so far is 60F. Looking forward to trying it out in the summer heat.
Thank you for your feedback.