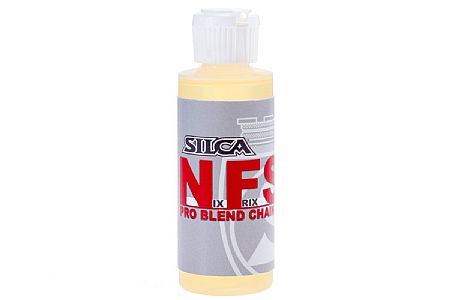 NFS chain lube
Riding in the PNW we don't tan we rust. So does our chains. Nfs lube have lived up to its claims by far. I ride near a gravel supply company and I usual have to clean my chain after every ride due to the rock dust. With nfs chain lube ive noticed my chain stays cleaner longer without that gritty feel. Ive also ridden in several down pours this year and my chain held up beautifully. As an Automotive Tech for 20 years i am very picky about my bicycle maintenance. I would highly recommend this product. Long lasting and keeps your chain quiet.
Thank you for your feedback.
1 of 1 customers found this review helpful.
Great Lube
Just apply it sparingly to a clean, dry chain and your good to go. It the best longest lasting lube I've used. I've been using it for a few weeks now, I ride about 125 miles a week, and it is working great. It has been cool and damp, but it makes no difference to the performance of this product.
Thank you for your feedback.
Cycling Enthusiast
Portland, OR
1 of 1 customers found this review helpful.
Silky smooth and near silent
Easily the best lube I've used. Keeps my drivetrain shifting smoothly and silently. Doesn't keep your drivetrain as clean as a ceramic dry lube like One Ball and Finish Line but much quieter and seems to have less friction. Very viscous but since you only need 11-12 drops randomly applied to your chain it coats my entire drivetrain with a couple passes through the gears. Have put a few hundred miles on with this and can happily say I've found my new dry weather lube (previously used Finish Line and One Ball ceramic lubes, T9, Dumonde, ...)
Thank you for your feedback.