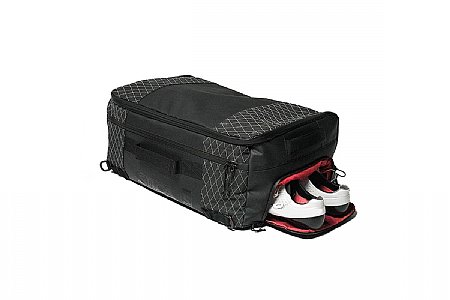 Cycling Enthusiast
Riegelsville, Pa
LUV this versatile, well built, and thought out gear bag .
IMHO this is a very well built and thought out gear bag thats too nice for us cyclist. It looks more like designer luggage and the online photos don't do this bag any justice.
I've been looking around for a new bag for my cycling gear and to be honest I was hesitant at first because of the cost. I'm glad I bit the bullet and used my Gold Membership points towards the purchase.
This bag is extremely versatile and has plenty of room and pockets for organizing all you're vital cycling gear and accessories and with room to spare.
I would highly recommend the Silca Maratona gear bag to anyone looking for a new gear bag or travel bag for that matter.
Thank you for your feedback.
Competitive Racer
Portland, OR
Good-looking, well-built, and thoughtfully designed
Great bag with plenty of storage for race day. The shoe container and section for your gross clothes are very useful in keeping dirty stuff separate. Love the option to wear it as a backpack.
Thank you for your feedback.
Competitive Racer
Southeast
Extremely nice, well thought-out, premier bag. Great organization and separation areas for dirty shoes, kit, bottles, gear.
I use the product to keep my items organized for rides and races. Just helps keep it together and helps check off that list of what I actually need to bring to a race, keeping everything where I can see it. When you use the bag, it opens up, laying everything out where it is easy to see and organizes it all well.
Thank you for your feedback.