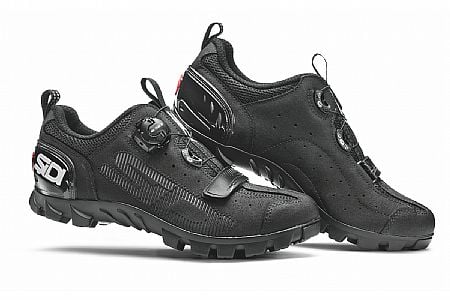 Daily Commuter
Rochester, NY
3 of 4 customers found this review helpful.
Awesome Shoe for the price
I really love these shoes. They have a hard rubber sole that will keep you from slipping. The thing that I like the most about these shoes is the laces. The Tecno-3 adjuster really tightens up the laces... At first it's a little strange riding in flexible shoes but once you get used to it they are extremely comfortable. They aren't perfect however... There is nothing to keep the to tongue from slipping or sliding so you need to hold the attached loop while you are tightening the adjuster. Once you get used to tightening them you will never go back to Velcro. If you are like me and rub your shoe on the crank, these shoes will also end that. The lacing it on the top which means nothing hangs over the side of your foot , keeping your foot free from crank rub.
Thank you for your feedback.
1 of 1 customers found this review helpful.
Good shoes
Shoes are great so far. Have used them around 5 times so far. Dont see a problem with them not being stiff enough during rides. I uses these primarily on bike trips up to 40 miles on paved trails. So they work perfectly for me. Much better than lake, diadora, L g or pearl izumi shoes that I have used before.
Thank you for your feedback.
Cycling Enthusiast
Minnesota
4 of 4 customers found this review helpful.
I love Sidi but.....
I was looking for a pair of shoes for lightweight touring. I wanted to be able to walk easily in them and have them ride well. My plan was to for these to be the only shoes I brought on tour. My current MTB (high end Sidi) are too stiff for any real walking. These could have been perfect but.....
I really, really, really wanted to like these shoes. The upper is fantastic with the boa-like lace system that Sidi does so well. The tongue an upper are awesome and the 45 fit me like a glove (I normally wear a Sidi 44.5). They are great to walk in.
That said, the sole is so flexible you can literally (with some effort but easily) fold the shoe in half completely in half. If you are going to be using a pedal with a small platform like SPD or a pedal without support other than the cleat (ie crank brothers), these shoes would have been painful for me to ride as they would be insufficiently stiff for serious riding. I think one's arches would really suffer.
That's what I don't get. No one knows how to make a cycling shoe better than Sidi. There is no shank in these shoes, the only stiffness comes from the rubber soles. Those are just going to get more flexible with time. All they had to do was put in a nylon shank or something similar to improve this shoe. This sort of performance is not worthy of a shoe as this price point. I would expect to see that in something like an entry level shoe with laces in maybe the $100-$125 range not at $200.
I wound up the Giro Terraduron. This shoe is also easy to walk in but it has a nice stiff sole and rides really well and is a much better choice.
Thank you for your feedback.