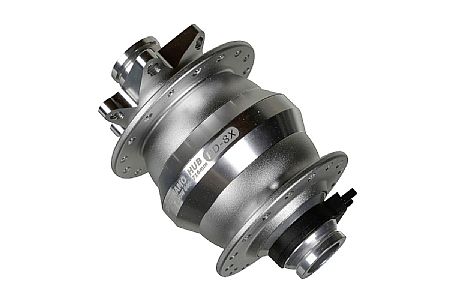 Daily Commuter
Pennsylvania
2 of 2 customers found this review helpful.
Versatile hub design.
I have a couple of hundred miles on this hub so far and it's been trouble free and seems very well built.
I especially like the 15mm thru axle option so I can run it on my mountain bike if I ever decide to do some serious backcountry bikepacking. It's nice that it come with a 9mm QR adapter that is machined perfectly to fit in the axle.
I'm running a B&M front light on it and it has no problems powering it at speeds as low as 10mph.
I had it built on a Stans MK3 Crest rim and it looks great.
Highly recommended as a commuter upgrade. Not worrying about recharging batteries is freeing!
Thank you for your feedback.
Cycling Enthusiast
San Jose, California
2 of 3 customers found this review helpful.
Eternal power source
Ive had an excellent experience with a similar Shutter Precision (QR) hub on my commuter bike (2 yrs and many thousands of miles). So, when I needed another dynamo hub for my MTB, I had no hesitation to pick another Shutter Precision hub with 15mm TA. Wheel has been build, but not used yet (planned to be used on multi-day back country bike packing trips this Spring and Summer). I have no doubt that Ill be just as pleased with this one, as Ive been with the other SP dynamo hub.
Thank you for your feedback.