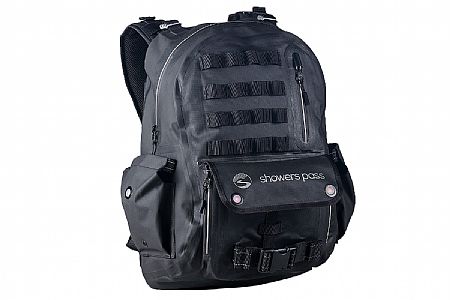 Cycling Enthusiast
Sparks Nv.
1 of 1 customers found this review helpful.
Performs as promised
Bought this bag for mainly riding my motorcycle to and from work. Bag is well made and has tons of room.
Has kept all my items dry. The led lights are a plus and will use them when I ride my bicycle. The only thing that concerns me is the chest strap. It is a unique system but does have a lot of plastic so will see how it stands up.
I own several items from Showers Pass and love them all.
Thank you for your feedback.
Daily Commuter
Dublin, Ireland
2 of 3 customers found this review helpful.
Overall a well-designed waterproof (or nearly) backpack that carries a lot and is comfortable, but the button lights are useless.
I grew tired of putting my computer into a trash bag so I could carry it in my shoulder bag. This keeps it nice and dry, along with everything else in the main compartment. The side and back pockets are not waterproof - the side ones are clearly not designed to be, and the back pocket has a flap that doesn't really lay flat, so water can get in. The little button lights don't stay on during use - I lost one the first day and so checked the other three to be sure they were stuck on properly. I lost the second on the third day of use. Yesterday, I brushed a door while leaving work and heard the button light fall, so found it and replaced it. These are not hard hits - the lights simply are not well attached, and fall off with the same amount of pressure needed to insert them in the grommets. I attach my own blinkies to the pack, and those stay on. The shoulder straps are great - wide and comfortable. I tucked away the waist strap and sternum strap - no need for them on a bike, I think, although I might want them with a really heavy load, but I hope not to carry that. The zippers are waterproof, although I worry about their light gauge. Overall, a good pack with much to recommend it. Some minor design flaws that could be fixed by SP fairly easily.
Thank you for your feedback.