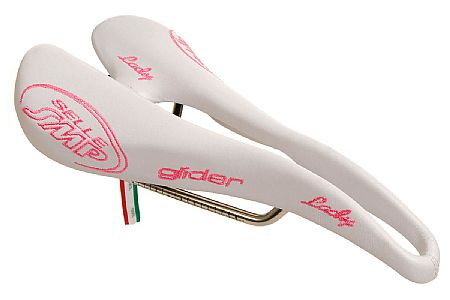 1 of 1 customers found this review helpful.
Finally, a saddle that's confortable
I had all but given up finding a saddle that didn't cause numbness in my soft tissues. This saddle looks a little weird but it works. Very comfortable on long rides. Thanks!
Thank you for your feedback.
Cycling Enthusiast
Vancouver, WA
Good for the bum
This saddle makes riding comfortable for the long haul. While it is not as padded as it could be for the sit bones, it really eased my chaffing and was good for other areas of the pelvic region. Would recommend it for women.
Thank you for your feedback.
Cycling Enthusiast
Altadena, CA
Great seat once position correctly
this is a very difficult seat to adjust, you must really know how to position it properly. I went to a fitter and he did it all wrong until I contacted the SMP rep. The seat must be level else you will bruise your sit bones. The seat was installed in a downward position and it made the back bruise my behind. Now that it is level it is a very feels much better. Just be very carefully when you install it.
Thank you for your feedback.