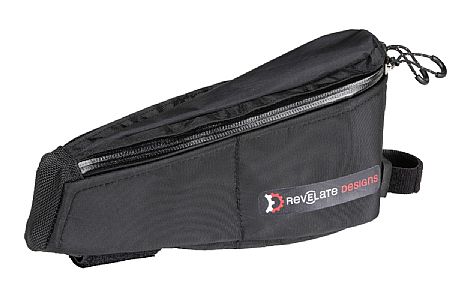 Cycling Enthusiast
Sacramento
1 of 2 customers found this review helpful.
Well-constructed, but not well-designed
Purchased this item, got it home, and it seemed okay when I first tried it on my bike. Took it on a multi-day trip to hold phone, snacks, etc., and realized it was not a good fit. The product should come with suggestionswarnings on fit, like This product best used with sloping top tube. For instance, the front of the tank is about 90 degrees, yet the angle between my fork steerer tube and the top tube is much less than 90 degrees. The velcro attachment that secures the front of the tank to the steerer pulls the tank into the stem and the tank binds and flops as you turn the bars. Also, the tank is large enough that it makes it difficult to stand straddling the top tube because it uses up so much space, especially when stopped on an uphill. My knees also rub it when out of the saddle. A tank with slightly less width and length with an angled front would be a better fit. This is not a bash review of the Gas Tank as it is a decent product that will probably give years of service to someone with the right bike, it simply did not work well for me for the reasons I've described. It appears Revelate has realized they rushed their Gas Tank to market without enough test fitting as they have just released a new, slightly smaller one with an angled front (the Mag Tank).
Thank you for your feedback.
Cycling Enthusiast
Orlando, Fl
1 of 1 customers found this review helpful.
Great bag
The bag is long, there's a movable divider. I put heavy things like my cell phone forward and food bars forward. I use a snow board cable lock and keep car keys and stuff aft. The zipper works great and has to corrodejam. It holds loads cell phone, energy bar, keys, cashcards and a lock without sagging . My knees angle in slightly when I stand climbing and I might lightly rub the side otherwise it tapers nicely. Construction is very good.
Thank you for your feedback.