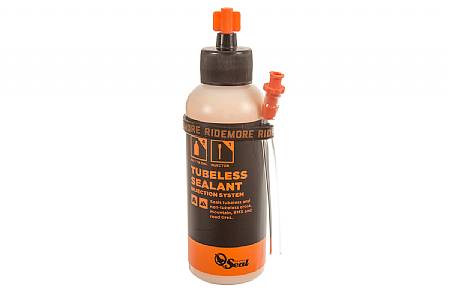 saved me a wire flat
I've used Orange for 2 years. find Orange is easy to use, and doesn't clog my stems. I can wash out the cores, and reuse them. Stays liquid, even though I left my bike in its travel box for 8 months. Out of caution, I did dump it out and put fresh Orange in the same tubes. Had a wire flat that I didn't know about until I changed my road tires. Tire held fine, no excessive loss of air.
Thank you for your feedback.
0 of 1 customers found this review helpful.
Had great promise
I heard orange seal was good stuff, but didn't have the best experience using it in a humid Texas (near Houston) environment. It may have sealed some pinholes, but I never saw any orange evidence. The real disappointment came in its lack of durability, since it needed refreshing after just 4-5 weeks. If this is a premium product by price, then I would expect much better usage.
Thank you for your feedback.
Competitive Racer
Phoenix, Arizona
1 of 1 customers found this review helpful.
Excellent sealant!!
Put this sealant in my tubular tires, as a an added layer of protection against flats. I always carry a spare tub, but it's a pain to mount it, so I figured I'd give it a try.
It works!! Got a small puncture, directly in the center of the tread, on my front tire. Put the hole at the 6 o'clock position, let the sealant coagulate for a second, and I was on my way. That simple. Didn't even have to put air in the tire!! Rode off, and finished my ride!!
All I did was add 2 oz. to each tire, through the valve stem, after I mounted the tires. Super simple with the included injector.
In my opinion, this works way better than Pit Stop, since I've never had good luck using that sealant. Plus, you don't have to carry the can around in your back pocket!!
Thank you for your feedback.