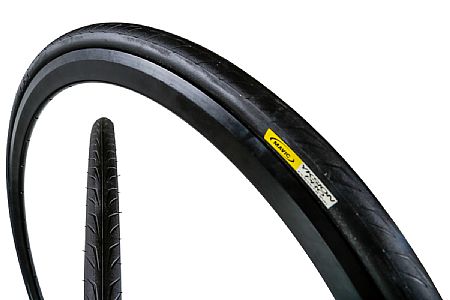 Competitive Racer
Los Angeles
Cycling Enthusiast
Middle Tennessee
4 of 4 customers found this review helpful.
Not a bad tire. Not a great tire. Flats easily.
I used these tires because they came mounted on a new set of wheels. Wear and traction were acceptable but not outstanding. The thing that set these apart was the frequency of flats. There's not much flat protection here compared to my usual tire - Conti 4000S II. Because of the flats, I took these off my next new set of Mavics before riding a mile on them. They just aren't worth the bother.
Thank you for your feedback.
Competitive Racer
Sonoma County CA
Flat Prone!
I picked up a new Cannondale EVO 6 and it came with Mavic rims & Yksion tires...I have been a road rider since the 70's and I ride upwards of 200 plus miles a week...Within the first three weeks I've had four flats, all of which where on the front tire...Every flat I could identify what caused the tire to go down...I've come to the conclusion that the performance of the tire is excellent but they are very flat prone. I have been riding Michelin Pro 4 endurance tires for several years on the same roads and have had zero issues to speak of.
Thank you for your feedback.
Competitive Racer
New York
9 of 9 customers found this review helpful.
Unbelievable Speed and Control...
As a competitive rider I am constantly seeking out the latest and greatest components for my bikes with my latest purchase being a set of Mavic Ksyrium wheels and a matching set of Mavic Yksion, 700x23c (Power link and Grip link) tires. I was pretty much blown away by the performance of this wheel set and tire combo. I have ridden almost 3900 miles and these tire are still performing like new. The corning is quite impressive and energy transfer is first rate! If I had to by them again it would be a definite yes!
Thank you for your feedback.
Review for Mavic 2014 Yksion Pro PowerLink Clincher Tire
Competitive Racer
Milwaukee WI
9 of 10 customers found this review helpful.
Not that Good
I have put about 7k miles on these tires. They came with two sets of Mavic Wheels I bought. They don't roll as fast and are harsh riding compared to my benchmark the Conti GP4000. But I do find them as durable and flat resistant as the Conti. I replaced them with Conti's when they wore out at about 3500 miles. Not bad, just not great.
Thank you for your feedback.