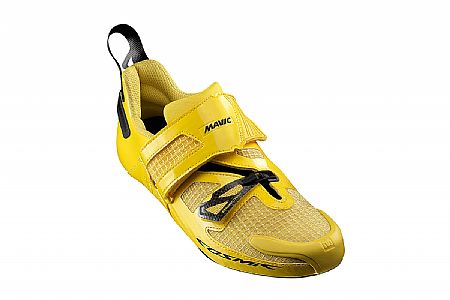 Competitive Racer
Portland, OR
2 of 2 customers found this review helpful.
Great Aero shoes
I got this pair for my first Ironman, and I was impressed with the quality of the shoe, overall i think it is one of the best deals out there especially at this price, here are some things i really like
-Light & very stiff ... first thing you will notice about this shoe is how light and incredibly yellow it is. This pair also has a minimalist design, simple but effective. For stiffness, the sole and back panel are full carbon, so you will feel the stiffness while riding, your feet basically becomes a part of the bike.
-Ventilation - The front mesh coupled with the bottom vents work pretty good to keep a good air flow and prevents moisture build up.
-Good Fit - the fit was true to size, i ordered this online from the first time and the size i ordered worked great. The strap was pretty long at first, but after cutting it to fit my size, it works great.
-Comfortable ... The shoe is pretty comfortable, i don't feel any toeankle discomfort until maybe after 3 hours of riding, and its never bad.
-Color - while yellow is pretty strong color, it serves pretty good on the road if you want to be more visible.
overall, this is a solid pair of shoes, strongly recommended.
Thank you for your feedback.