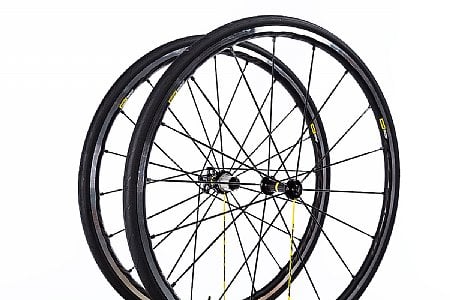 Great wheelset, no regrets!
Coming from the stock Bontrager Race wheelset that came on my Trek Domane for the past two years, Ive read this is the best way to make a noticeable difference in the ride. After talking to a couple buddies who race and torcher wheels more than I do, they recommended the Mavic Ksyrium Pros or the Shimano DuraAce C24s. The great reviews on Mavics UST tubeless system sounded great and steered my purchase this way. After 500 miles I have no regrets! No punctures yet (knock on wood) so Im still waiting to see how well the sealant and tires shed a potential flat. These wheels are far more stiff than my stock Bontragers, they roll up to speed quickly and the hub engages darn near instantly. The hub is louder than the Bontragers and sounds great. The biggest difference is going tubeless really softens the ride. I weigh 147 pounds and run 75psi up front, 85 in the rear and have been amazed at how much smoother the ride is.
There was one thing I didnt like, and this has nothing to do with Bike Tires Direct. The tires come mounted on the wheels and they are directional, meaning they need to rotate a specific direction. The rear tire was mounted the wrong way and I didnt notice till I had them full of sealant and mounted on the bike. Its a small quibble but come on Mavic, when you spend this much on a set of wheels, I would think the factory would be mounting them the right direction.
As for Bike Tires Direct, great experience! Fast free shipping and since I live in California, no sales tax! Plus the credits toward a future purchase is a nice bonus.
Thank you for your feedback.
Competitive Racer
Maryland
1 of 1 customers found this review helpful.
Durable and lightweight wheels for training rides
I bought these for bad weather riding and training rides and have been very impressed with them. They feel stiff like my carbon wheels, but the braking is substantially better. The tubeless setup was easy and I really like the new Mavic UST tubeless tires as they feel like you are riding tubulars when you keep them at 80psi or so.
Thank you for your feedback.