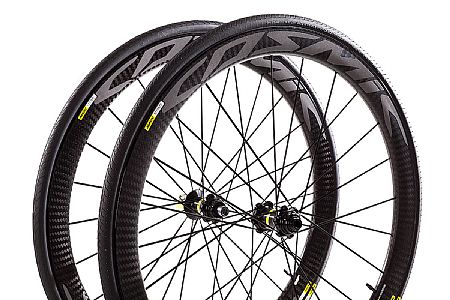 Cycling Enthusiast
Southern Indiana
Great wheels for the money
Great price for a quality set of carbon deep wheel set including tires!! - These were a nice upgrade over stock wheels. These wheels are thur axle and I needed QR adaptors - finding the right ones was a big hassle from Mavic. The hubs are 2019 and SS on rim were 2018. This caused a lot of confusion that Mavic and my LBS had a difficult time figuring out. Mavic quality is great as always. Biggest downside I can have so far is I will try to avoiding riding these in really wet weather as they collect water inside of them. Rode thru a hard rain for an hour and a lot of water collected inside the wheel. The have drain holes on them but still have to take the tires off to get all the water out shaking thru the valve hole. I have read this is common in this design of wheels. Other wise love the wheels.
Thank you for your feedback.
Competitive Racer
Harlingen, Texas
Very Fast and Durable
This is my 3 rd set of Mavics. My First set I placed on my 2015 TT Bike, 2 nd set of my Race Bike, and the 3 rd set on my comfort bike. What a Huge difference. They are very Fast and Durable. I have hit pot holes. Zero Damage. In crosswinds I cut through them like an Arrow in the Wind. If you make one up grade on your Road bikes. The Rims. That makes a huge difference. Love my Mavics. Great Product. With a Great Reputation.
Thank you for your feedback.
Competitive Racer
Harlingen, Texas
Cycling Enthusiast
Santa Clara, CA
3 of 9 customers found this review helpful.
Didn't feel exceptionally fast compared to the DT wheels I got with my Canyon Ultimate, but I only got in 2 weeks with them.
My disc brake bike is mostly for hills, but occasionally I want a bit of speed on the flat rides and that is why I purchased these wheels.
Thank you for your feedback.