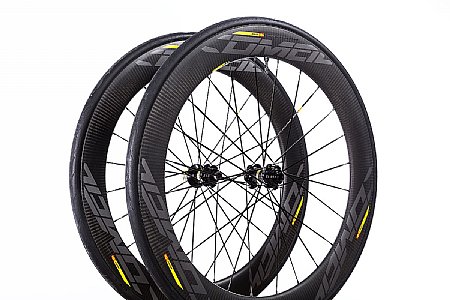 Cycling Enthusiast
South Carolina
Super fast, aero tubeless!!!
Very fast wheels! These came on my Canyon Aeroad CF SLX 9.0 and they look amazing. Never been a fan of Mavic, too conservative and behind the times was going to sell them but I absolutely love these wheels. I was concerned 64 would be too deep and I'd get pushed around but they are not any worse than my Zipp 404's in side wind gusts and are more stable in constant side wind. They came with tubes and Mavic Ysion tires, I changed over to tubeless right away, I've only used the Mavic Yksion Pro tubeless tires (28 in back and 25 in front) as they suggest, mount easily and pump up with a floor pump without any issues, tire performance is very good. First tubeless road I've tried and I'm a fan all I carry is sealant and CO2 cartridges. Highly recommend you consider these I'm pleasantly surprised and they are very competitively priced.
Thank you for your feedback.