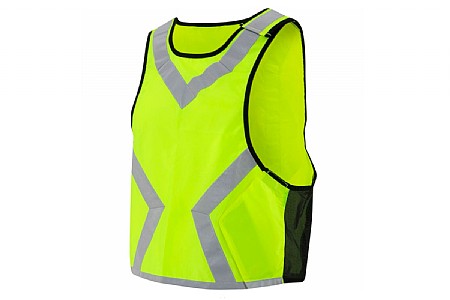 Cycling Enthusiast
Morrison, CO
1 of 1 customers found this review helpful.
Visibility is a great thing!
I wore this vest with a hi vis helmet and was amazed at the traffic giving me lots of room! After a near accident with a car coming up on me in the shoulder, this vest has given me the confidence to venture out on the roads again.
Thank you for your feedback.
Cycling Enthusiast
Los Angeles, CA
12 of 13 customers found this review helpful.
Louis Garneau Hi Viz Vest Easy to use, light weight, very visible day or night
I bought the Louis Garneau Hi-Viz vest to wear when I commute to work and back. I ride a DaHon folding bike, since I use Metro-rail for part of my commute, and while I do have flashing lights on the bike and on my helmet, I wanted to add the vest to give drivers an even better chance of seeing me. On the 2nd dark morning I used the vest a driver actually rolled down his window at a traffic signal to tell me that he could see the reflective stripes on the vest a long way off (not sure how many feet, he just said a long way). Easy to take on and off, light weight, rolls up into a tight cylinder when not in use. Lots of reflective surface area for riding in darkness and bright neon yellowgreen shows up well in daylight.
Thank you for your feedback.
Good but doesn't breathe at all
Well-designed and reflective, but doesn't breathe at all which contributes to overheating. Haven't used it in cool weather and worry it'll be clammy with perspiration on the inside.
If it was mesh, or at least had a mesh back, it'd be great.
Thank you for your feedback.
Easily fitted and good reflectivity
I intended to use the vest both as a cover in heavy daytime traffic and at night for visibility. It does both very well. It doesn't flap much at speed and is easy to fit. I was caught in an afternoon storm and was soaked. The temp dropped to 66' and I was chilling. The vest actually kept me warm. Which is its' only drawback. I commute at 4 AM and the vest gets quite hot when riding above 70'. The material is more like nylon windbreaker, not mesh.
Thank you for your feedback.
Cycling Enthusiast
Orlando, Fl
1 of 1 customers found this review helpful.
Excellent Reflectivity
This vest is well made and very visible. But..... I am an avid cyclist. I commute 65 miles round trip once a week and regularly ride 200K on a weekend. I was looking for a vest that would be reflective at night and visible in day time traffic too. This is it. The fit is very adjustable. However, I read that it was mesh. It is not. As a matter of fact, it works like a wind vest. I over heated the first morning I wore it, 4 to 6 AM, 32 miles, into a 8-10 mph headwind, around 70 in Florida. I like it, I'll wear it, but maybe in the spring and fall.
Thank you for your feedback.