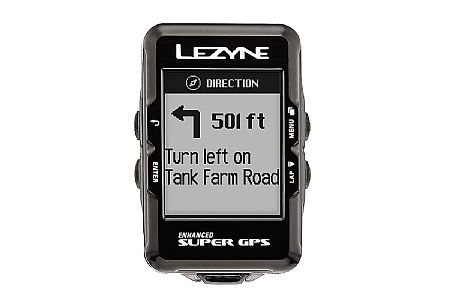 1 of 1 customers found this review helpful.
Lots of features...reasonable price!
It is not a $500 Garmin, no color, no touchscreen..but for less than $150, you get GPS with breadcrumb (shows you where you've been) and turn by turn navigation (download TCX to phone, then load preride). You get bluetooth and Ant integration for power, HRM, speed, cadence, and shifting. When paired with your phone, you get phone call and email notifications, Strava and Training Peaks integration, ability to set most features from the phone. You get 5 scrollable screens of data with 2 to 5 lines of data each. The maps it provides is rudimentary, especially on black&white, but I don't require mapped navigation. I use the turn-by-turn for club rides and charity rallies and it works great. This is my second Lezyne after using Cateye for 15 years. I watched too many fumble with their Garmins...too much trouble for the money (no offense Garmin, I have no first hand experience). My Lezyne Power GPS (Y9) is still awesome, but my Super GPS is so much more so. It is my opinion that Lezyne should include the out-front mount, and the mount needs a bolt that better resists corrosion, but I can replace it, if I ever fail to put a bit of grease on it, I guess. I am a bit surprised I don't see more of these on the road. Check out the features online, then buy one.
Thank you for your feedback.
Competitive Racer
Park City, UT
1 of 1 customers found this review helpful.
Decent GPS but altimeter is completely worthless
For the most part I like this GPS but the barometric altimeter does not work at all. Every ride the altitude change is not just off a little but so far off it is completely worthless, for example the unit reported 850 ft of climbing on a ride with 3800 ft of climbing. This happens on every ride.
Everything else about this unit is good. The more secure mount and the forward mount accessory add on is great. The GPS accuracy seems good. This would be a great GPS if the altimeter worked even a little bit.
Thank you for your feedback.
2 of 2 customers found this review helpful.
Excellent value
Im really impressed with this unit. It has all the functions I require- more than I will need or use, and is about half the price of a similar competitor. No, its not touch screen, but really, how much do you switch screens anyway? All the data I need is on one screen for easy viewing. The phone app is very good and increases functionality. I like how it syncs automatically with Strava at the end of a ride. Another real plus is the battery life. I purchased the Lezyne out front mount also, and it really puts the unit in a good position.
Thank you for your feedback.