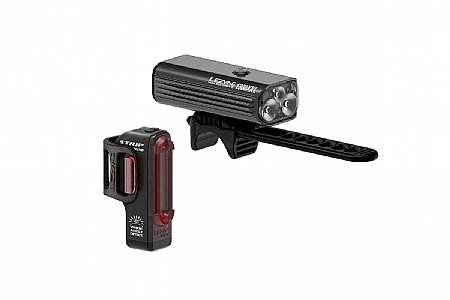 Daily Commuter
Portland OR
Headlight is very bright
I bought this set with a gift certificate. My old lights, also from BTD, were about worn out. I commute by bike, so I have to have reliable lights. The lights appear to be good quality. I am not crazy about lights that are held on with a rubber band, but I will give them a pass anyway, as they appear fairly secure.
The headlight has multiple levels of light, including flashing modes, which I never use, as it distracts me. I did get cussed out by a homeless person with the light on medium, but consider the source. There is also a biker that has cussed me out with a much dimmer light, and just wait until he sees this! I can see quite a way ahead, and for once, I can see the critters that I nearly wipe out daily.
The taillight is impressive too, and has features I like. There are probably 10 modes. I like the one with several low flashes followed by a gotcha flash. The Lezyne has better switches than my previous Niterider taillight. I can turn it on and off with a single push, and not have to scroll through all the modes until it turns off. There is a battery indicator on side. This light looks modern.
Thank you for your feedback.