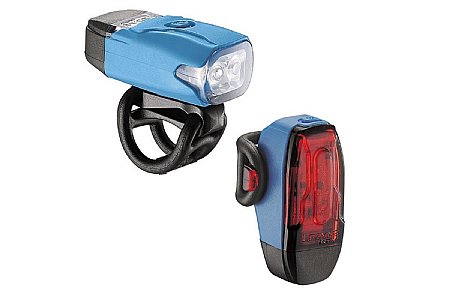 1 of 1 customers found this review helpful.
Decent light. Silly charger.
PROS: The lights are decent for the brightness on a budget. No extra cord sent to eventually add to a landfill.
CONS: The biggest kerfuffuffle is the direct charging USB on the back side of these!!? This product really needs to have an image of that in the online store. Difficult to fit two of these lights next to each other on certain surge protector strips and I feel the rubber cover of the USB attachment will be a weak link in the near future. In the past all silicone/rubber parts faded first before the rest of a lights components (mostly in reference to the silicon around-frame-straps). If this rubber goes walkabout thru usage I feel the exposed light charging USB will be too fragile to use safely.
Thank you for your feedback.
Cycling Enthusiast
Big Easy
2 of 2 customers found this review helpful.
Great commuter daily ride light set
I was looking for a reasonably priced set of lights for my commuter bike. Something that was easy to get on and off (preventing theft while on quick trips to the grocery store or whatnot) and gave enough light to be seen and see for my commutes to work and rides around town. Recommend for the price and the USB stick-style charging is nice too. Don't have to worry about lost or proprietary cables either.
Thank you for your feedback.
Great and reliable light
Great set. Just got it. Great brightness for the 1000 lumen. The 500 is also good but not as good as the 1000 lumen. It let me ride with great confidence. There are many other less powerful setting to preserve the battery life. The size and the weight are also very good. I give it 5 stars. I use the 500 on day or late rides and the 1000 in dark or night situation. The strobe is also superb on both.
Thank you for your feedback.
2 of 2 customers found this review helpful.
Standard entry level package
I recently ordered this bundled set to address my needs for illumination during inclement daylight hours. This set more than adequately fulfils this requirement. No need for batteries and the illumination provided by the front light combined with the brightness of the rear light suits my needs perfectly. I'm looking forward to upgrading later with this brand for certain.
Thank you for your feedback.